Agency 451 + Conductor Partnership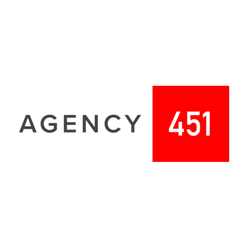 Agency 451 is an award-winning, fully integrated marketing, advertising, and communications agency that specializes in creative design, advertising, public relations, digital marketing, media buying, experiential events, and content marketing.
Headquartered in Boston with offices in New York and Los Angeles, Agency 451 brings the big ideas that help Ignite Brand Love. In 2014-2015, Agency 451 was honored with more than 40 awards across services including SABRE Awards Boutique Agency of the Year (finalist), in2 Sabre Awards, Social Media Club's SOME Awards, PR Agency Elite, PR Daily's Social Media Awards, Platinum PR Awards, PR Daily Awards, PR News'​ Digital PR Awards, PR Daily's Digital Awards, BellRingers and Boston Business Journal's Pacesetters Awards.