Paid & Organic Synergy at its Finest
Conductor's Keyword Objects integration unlocks paid and organic search insights for marketers. Keyword Objects gives you the confidence and the data to build synergistic strategies that maximize every opportunity — and every dollar. These insights are pushed right into the Conductor Insight Stream so you never miss a critical chance to impact your business.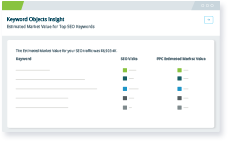 Unlock Your "Not Provided" Keywords:
Get real-time insight into which organic keywords drive traffic, conversions, and revenue by unlocking your keywords that were previously secured or not provided

Drive Paid & Organic Synergy:
Access your PPC and SEO metrics in one side-by-side view. Synergy helps brands understand the impact of brand cannibalization and finds new bidding and content creation opportunities.

Improve PPC Landing Page Content:
See where your organically found content converts at a significantly higher rate than your paid content, and optimize your landing pages accordingly.

Optimize Your Spend:
On average, customers see a 42% cost savings in PPC through Search Synergy — but it's not just about saving money. It's about arbitraging spend to get the most value out of how and where your content appears on search engines.
Next steps: evaluate Conductor for yourself.
Get a live demo of our SEO platform with a certified expert and see what a true partner in search can do for your business.