After a lot of publicity and persistent calls for social media platforms for more transparency around native advertisements, you might think Facebook dark posts (now rebranded as "unpublished posts") are a thing of the past… but they are still very much alive.
What is a Facebook Dark Post?
Unlike an organic post on a brand's Facebook page, a dark post usually appears as an ad that exclusively shows up on the news feeds of targeted audiences selected by the ad publisher. These posts don't appear on the Page's timeline (hence "dark post").
A Facebook dark post allows marketers to target specific customers with sponsored (read: paid) content. The reasoning behind this was simple: current customers or Facebook followers would probably ignore, or maybe even get a little irritated, if constantly bombarded with advertisements from a product they already use. A dark post lets you pick and choose who sees your ad, even though the content will never actually show up on your own page.
Dark Posts in 2018
Dark posts are now referred to as unpublished posts on Facebook. While their purpose and functionality have not changed, Facebook now allows its users to see what dark posts (ads and sponsored content) a page is currently running. Dark posts can be found on the publisher's homepage under the Info and Ads tab. You can view all of a Page's current active dark posts, but not past or completed campaigns.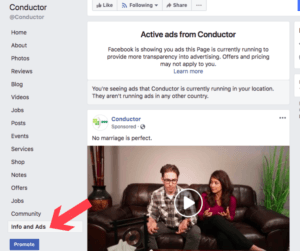 How Does a Dark Post Work?
A dark post allows brands to target specific messaging to particular audiences, based on Facebook's audience insights into demographics and other characteristics the social network tracks. That can be very useful when you want to connect with one specific demographic without engaging your other groups.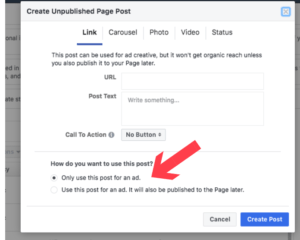 For example, you could create 10 different product update posts targeting specific types of users in one day without over-saturating your page or spamming your followers' news feeds.
How Do Dark Posts Help Expand Brand Awareness?
Tami Cannizzaro, Head of Marketing at eBay, explained to the power of the dark post and Facebook's targeting capabilities:
"We're going to Facebook heavily, and so Facebook dark posts tend to be doing really well. You can really target specific demographics and profiles on Facebook and [this company was] able to take their brand and become two completely different brands to two completely different audiences."
Dark posts allow brands to modify their outreach, message, and impact to deliver specific content to a targeted audience. It's a lot like choosing what content your colleagues versus your best friends get to see on your personal social media profile. A Facebook dark post allows you to do the same thing at the post level for your brand.
The Ultimate Power of a Facebook Dark Post
A Facebook dark post allows you to reach the people that matter to you by targeting your audience and crafting the right messages for them.  Every buyer's journey is different, so it's important to have a diverse spectrum of messages. Native social advertising is an important component of a digital marketing strategy, but remember that these ads won't work unless they are delivering customer value, not just selling stuff.
Check out how insights driven by organic search data can help you understand your customers and develop a holistic digital marketing strategy.