If you want to do better than your rivals, competitive analysis should be an integral part of your SEO strategy. When you identify your standing in the industry, you can reinvent your SEO campaign and emerge stronger than your competitors. But first, what is an SEO competitive analysis? And, further, what place does competitive analysis have in SEO?
What is an SEO Competitive Analysis?
Simply put, competitive analysis in SEO is the process of identifying any related website that ranks higher than you on SERPs for search terms related to your product, service or company. Some websites that outrank you in Google will be competitors with which you are familiar.
Others will be unknown competitors who aren't in your industry but who are also writing content related to your business, product or service. Based on this definition, you can proceed to analyze the competitive landscape.
How do you do a Competitive Analysis in SEO?
When beginning your competitive analysis, start by taking a look at the broader field and how your content fits in. Take a look at competitors you know about, as well as the SERPs for your top keyword targets. This will give you an idea of any unnamed competitors. If this seems daunting, don't worry. We'll talk about it step-by-step.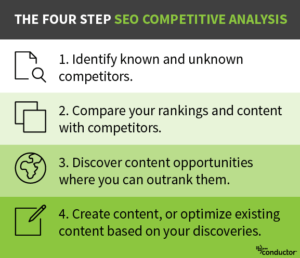 1. Identify Known and Unknown Competitors
Understanding the competitive landscape involves finding answers to three basic questions:
What is my competitor up to?
What is my competitor is doing that I am not?
Is what my competitor is doing working for them?
The goal for this stage of your SEO competitive analysis is to analyze your target competitors based on the search terms they are targeting. This will help you glean a lot of information about who you're up against, including their current business initiatives, what drives traffic for them, or how they are position their product in the market.
This step of your competitive analysis can seem daunting – particularly when dealing with a massive site or a number of large competitors. Technology like Domain Explorer in Conductor's SEO Platform can give you a high level look at how all the content on your domain is performing compared to your competitors. You'll be able to discover topics or content areas where your competitors are outperforming you, and vice versa.
From there, you need to identify areas of your content that can be better optimized to address the disparities you found in the first step. If you're using an SEO platform, make sure it gives you the functionality to identify how your content is performing on a large scale. Does it allow you to cluster your content by topics, personas or product initiatives? This information will be critical when you look to prioritize what you should address first.
2. Compare your Rankings and Content with Competitors
Spend some time analyzing keywords so that you know your biggest competitors. You will likely discover several previously unknown competitors scaling the SERPs for your top keyword targets. So, while it's smart to focus on companies that you already know are your competitors, make keywords your basis for analysis. This will allow you to identify the full scope of brands, publishers, or bloggers that are in competition with your content.
3. Discover Content Opportunities Where You Can Outrank Them
Approach your SEO competitive analysis using the SWOT (Strength, Weaknesses, Opportunities, Threats) framework. The biggest rule of a successful competitive analysis is to never assume anything. Base your SEO campaign on hard facts obtained from three main channels:
Consider the data channels available to you to analyze the competitive landscape such as Google Adwords and Soovle, a website that queries multiple search engines 'Suggest' function simultaneously. Excel can be your friend in allowing you to pivot large quantities of data and mine for trends. And, advanced SEO Platform can automate competitor analysis and discovery, deepening your insight into your competitive landscape.
Conduct off-page and on-page analysis. This involves studying your competitor's backlinks, anchor texts, social media strategy, tools used, content and page by page traffic figures.
Analyze your competitor's marketing strategies including past and present marketing programs, change in website traffic before and after implementation of marketing programs as well as the most fertile marketing grounds.
While analyzing the competitive landscape involves a lot of upfront effort, remember that competitive analysis is an ongoing process that should be completed on a continuous basis since the SERPs are highly dynamic.
4. Create Content or Optimize Existing Content Based on Your Discoveries
Once you discover keywords that your competitors rank higher for, it is important to ask yourself: "Does my page need an optimization or do I need net new content?"
Google's algorithm changes periodically. Pages ranking on page 1 this month for a keyword may drop to page 2 or worse the next. That's why monitoring page rankings and updating content accordingly is a crucial part of your content and SEO strategy.
Analyze where your pages rank for target keywords and see if there are opportunities to optimize existing content based on your findings. Pages that rank on page 2 for target keywords are usually the best opportunities for optimization. Within Conductor's SEO platform these keywords are called "striking distance" keywords, because they have a high potential to generate more traffic if they are better optimized and make it to page 1.
If your target keywords are ranking too far outside of the striking distance, it may be time to create net new content that better addresses the needs of your customers. You can use Google's Search Quality Evaluator's Guidelines to help you increase your content quality. Whether you choose optimization or creation, these strategies can help you rank higher on Google SERPs.
The Benefits of a Gap Analysis: SEO Competitive Analysis
Performing competitor SEO analysis through a deep and continuous process can give you a competitive advantage in your SEO efforts and help you gain insight into your core business. An advanced SEO technology platform such as Conductor's Enterprise SEO Platform can be a weapon in your marketing technology arsenal and give you a distinct competitive advantage in your industry.
Competitive analysis does not typically rank high on the list of topics that are discussed in the industry. It's not as 'sexy' as topics like 'who got banned in the most recent algorithm update?'. But industry experts and search marketers themselves agree that competitive analysis is a critical part of search marketing success.
Still unsure of where to start? Check out the technology platform we've created to help marketers far and wide conduct kickass SEO competitive analysis.