Last week, the full force of the content marketing industry swept onto Cleveland's sultry late-summer shores for Content Marketing World 2018. There were edifying sessions and keynotes on the future of SEO and content, there was the heart of rock and roll (still beating – can confirm), and by the end of it all, there were new connections and friendships made.
As a new content marketer, it was my first CMWorld, and I learned so much about how to take my work to the next level. Here are my top 6 takeaways from Content Marketing World 2018 – they'll help you recenter, refocus, and build for the future.
1. Always provide value, no matter the context
I learned a lesson from the very first thing I was handed at Content Marketing World – a bright orange tote bag with the conference program and a whole pile of bag inserts from event sponsors inside. Here was the first opportunity for exhibitors to drive traffic to their booths. The best inserts caught my attention with a smart value proposition, making me tuck them away in my program so that I'd be sure to remember to visit those booths later.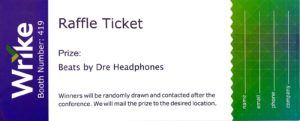 Project management software company Wrike went straight for the jugular and made their bag insert a good old-fashioned raffle ticket. All I've got to do for a chance to win a pair of Beats headphones is stop by the Wrike booth? Sign me up.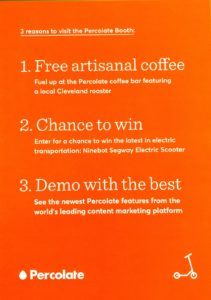 Meanwhile, Percolate listed out the different ways its booth would provide value in big, bold print. "Free artisanal coffee" headlined the bag insert and was hard to ignore, given that coffee was much needed to power through the early mornings and late nights of CMWorld.
2. Hold customer attention by taking advantage of curiosity
As content marketers, we complain a lot about our customers' supposedly short attention spans, and we make our content as "snackable" as possible in response. But peppy marketing guru Andrew Davis thinks we've got it twisted. In his Content Marketing World keynote, Davis argued that people are happy to dedicate plenty of time to consuming content – they just don't have time for uninteresting content.
So how do you make content that grabs and holds attention? By building a curiosity gap. Davis explained that we should restructure content to begin with the articulation of a goal, followed by a threat to the goal that raises the stakes, and then a delayed reveal of the solution to the problem.  That's how we can create tension and the need for closure in the audience. Put simply, there's a curiosity gap between what the audience knows and what they want to know, so they keep watching.
3. Your organization already has stories to tell
Some days, you can look at your organization and find it hard to believe that you have more compelling, human stories to tell. But in her session on thinking like a filmmaker, Denise Roberts McKee reminded us that such stories are waiting to be found in every organization.
McKee cited Church's Chicken as an example. Church's sponsored the World's Fastest Drummer competition in 2015 and produced a delightful documentary on the subculture of extreme sport drumming. McKee advised us to look for similar story ideas in our own organizations – stories that address our organization's objectives and capture our audience's attention at the same time. 
4. AI is here to help you, not replace you
IBM was nice enough to take the time at Content Marketing World to reassure us content marketers that robots aren't coming to take our jobs. In their lunch and learn session on AI-powered content optimization, Loren McDonald and Brian Donnelly of IBM showed us that AI built on machine learning – like IBM's Watson – still needs the guidance of human creativity.
In the words of John Smith, Manager of Multimedia and Vision at IBM research, "It's about the augmentation of creativity. In the end, the human really is the one being creative, and it's more about how can you get better efficiencies."
5. Content really does impact your bottom line
There's always that one person who hears all about how valuable, customer-first content is the future of marketing and then says, "Alright, that sounds good and all, but where's the proof?" In Conductor's Content Marketing World session, CEO Seth Besmertnik and Head of Content Charity Stebbins dropped the proof.
Conductor ran a study on the impact of educational content and found that content makes potential customers 131% more likely to buy – and its effect on potential customers grows over time. As Stebbins put it, in the end, customers come back to brands because of relationships, and content is the differentiator when it comes to customer relationships.
6. Great content can come from anywhere
Light of my life Tina Fey was the headlining speaker at this year's Content Marketing World, and she didn't disappoint. In a wide-ranging conversation with Stephanie Stahl of the Content Marketing Institute, Fey talked personal branding, social media, empowering women at work, and more.
When your room is genuinely diverse, it's easy to be fair. – Tina Fey at #CMWorld 👈 I never woo-hoo'd louder in my life. #RepresentationMatters pic.twitter.com/JCxihIO1mu

— Monina Wagner ✨ (@MoninaW) September 7, 2018
One insight that really stuck with me: Fey said that today, with such a proliferation of content platforms and producers, content has been democratized and great content can come from anywhere. She said that a decade ago, she was surprised that a niche channel like AMC was making good TV like Mad Men and Breaking Bad; but today, if someone told Fey there was a hot new show nominated for fifteen Emmys that came in a Happy Meal on a gadget you plug into your phone, she'd say, "Yes, I believe it."
That's empowering for all of us content marketers to remember – any of us could create the next viral hit. 
Learn how Conductor Searchlight can help you create great content that makes a positive impact on your customers' lives.