SEOs are lucky. They're sitting on a gold mine of user intent information in the form of keyword data. Very few people outside of search marketing know about the untapped potential in the words and phrases that millions are typing into their search boxes every day.
The problem, then, isn't a lack of data, but rather how to analyze and communicate it clearly and effectively. You might get excited by a spreadsheet filled with pivot tables and MSV data, but it will likely make your CMO's eyes glaze over. And you need executive buy-in to get more resources and support for SEO as a marketing channel.
So how can we take this data overload and use it to craft a concrete and compelling narrative? Read on for Conductor's top tips for how to analyze search data to tell a great story.
Data Collection: Make sure you have a solid keyword set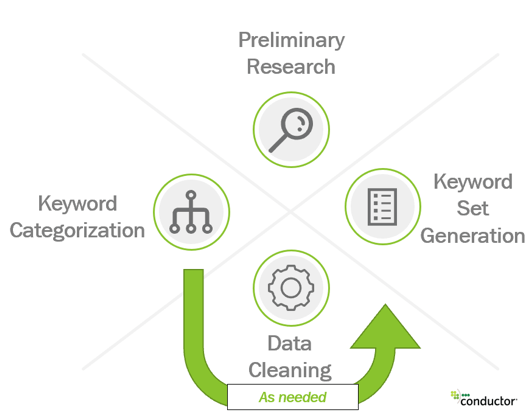 We all know that keyword research can be tedious and time-consuming. But I can't stress enough the importance of having a bulletproof keyword set before jumping into analysis. Since this data forms the backbone of your story, it has to hold up under scrutiny.
Assess each and every keyword to ensure that it is relevant to the topic at hand. Remove branded searches, misspellings and navigational queries. Bucket your keywords into thematically relevant categories.  The time you spend honing a keyword set upfront can save hours of frustrating post-hoc cleaning down the line. Software like Conductor Searchlight can help tremendously when it comes to doing quality keyword research.
To help bring these ideas to life, I researched about 1,200 keywords relating to business and leisure travel and performed a sample analysis for each storyline below.
Useful Types of Data Storylines
Market share uncovers hidden competition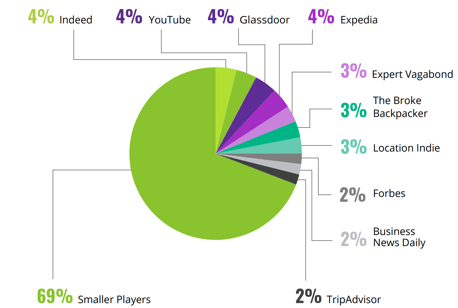 Market share refers to the percent of available page 1 search volume owned by different domains. It's the SEO's best way to identify "search competitors," or domains that wouldn't typically be considered direct competitors but are still owning valuable real estate on the SERP.
In my travel example, I discovered that, in addition to Expedia and TripAdvisor, small affiliate blogs like Expert Vagabond were owning significant page 1 market share. If I were a travel provider, I would consider using data like this to assess potential partnerships with companies that are already reaching the eyes and ears of my customers.
Search volume reveals customer voice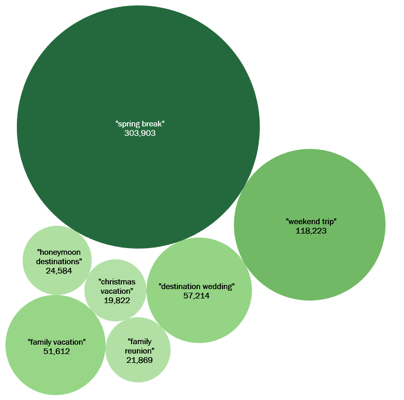 At Conductor, we define "customer voice" as the way your target audience is actually searching based on data. By parsing out the search volume for different groups of keywords, we can tell not only how your customers are talking, but also what they are talking about most frequently.
I investigated the most common types of trips that leisure travelers are searching for. Interestingly, "spring break" was by far the most popular trip type, followed by "weekend trip" and "destination wedding." Any leisure travel company should absolutely create landing pages targeting these high-volume topics, as well as longer-form content that provides value to searchers.
Paid cost comparison helps demonstrate ROI
Return on investment is notoriously difficult to prove out with organic marketing. A useful way to assess the dollar value of a keyword set is by looking at the cost to acquire traffic in paid search.
Looking at my travel keywords, I found that acquiring even a modest 10% of traffic from the set would cost a whopping $7.2 million annually. Additionally, these PPC costs have increased significantly in the last year; the average keyword bidding cost increased by about $2 since 2018. Taking all this into account, paid search is a reliable yet expensive method of customer acquisition. This kind of data can be great for talking to CMOs with large paid budgets in order to contextualize organic marketing costs.
Local analysis provides granular city-level insights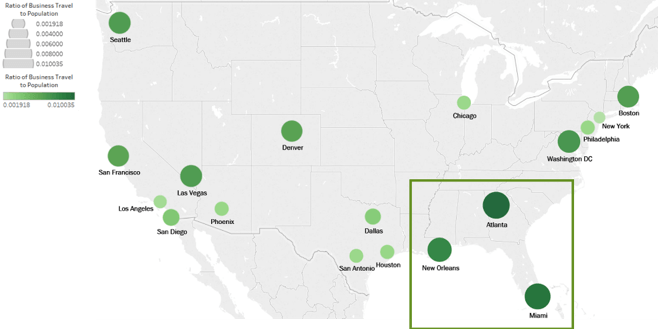 Every Google search is tied to the location in which it is made. By examining local keyword data, we can assess how search demand, performance and competition vary in cities and countries around the world.
My analysis found that there is relatively high demand for business travel in key southeastern US cities like Atlanta, New Orleans and Miami. While a business travel CMO may know that her biggest markets are NYC and LA, she may not have thought of smaller secondary markets where there is a big opportunity to increase their presence. Additionally, local data can help inform strategy beyond SEO; for example, it can help provide data to support a local ad campaign.
Seasonality gives texture to search data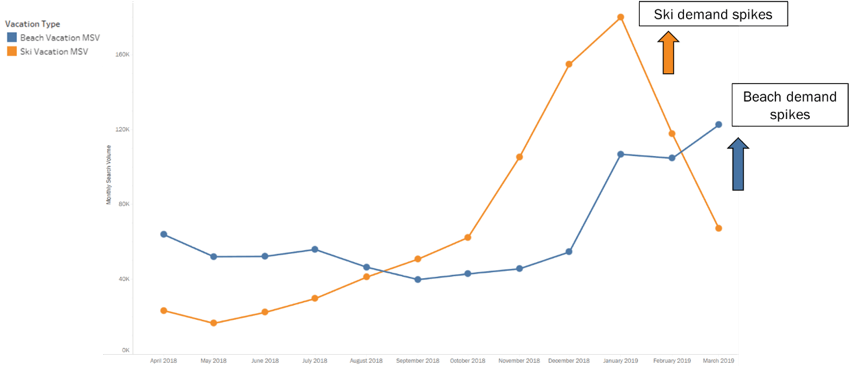 Monthly search volume is typically a rolling average of the previous 12 months of search data. By diving deeper into the month-to-month variation in search volume, we can add nuance to our analysis and provide insights about seasonal fluctuation in demand.
For this analysis, I compared the seasonality of "beach vacation" searchers to that of "ski vacation" searchers. Unsurprisingly, ski demand is highest in December/January, while beach demand spikes in March and remains higher than ski searchers through August. While this may seem obvious, seasonality data can be an incredibly powerful way to inform your content calendars, as well as to optimize campaigns across email and display marketing.
Conclusion
This is just a taste of the many ways that you can use data to tell a story about search. If SEOs can take full advantage of the data that they're sitting on and communicate it effectively, then they'll find it easier to ask for budget and resources. After all, there's no better way to understand your customers than by analyzing their own words.
Want to learn more about telling stories with search data? Check out Jonathan and another Conductor data superhero, Jessie Cohen, in their webinar with SEMRush.