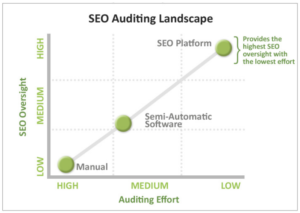 How often are you auditing your web pages? Our report shows that most SEO pros are not auditing frequently enough for optimal page visibility.
Don't miss significant opportunities to drive qualified natural search traffic that your competition overlooks. Check out our second study in the Unoptimized SEO series to get the scoop on:
The real auditing need: 4 out of 5 web pages change at least once a week, but the majority of SEO pros audit less than twice a month.
Average dedicated resources: It takes up to 4 full time resources to manually audit 500 pages, but an SEO Platform audits any amount of pages automatically.
How your peers value automation: 87% of SEO pros believe they would be more effective at on-page auditing with automation technology.
Download your report at right for more helpful insights and details.
 PS: You can also check out the first report in our series: The Unoptimized SEO: How Manual Tasks Sabotage Natural Search Marketers' Potential.