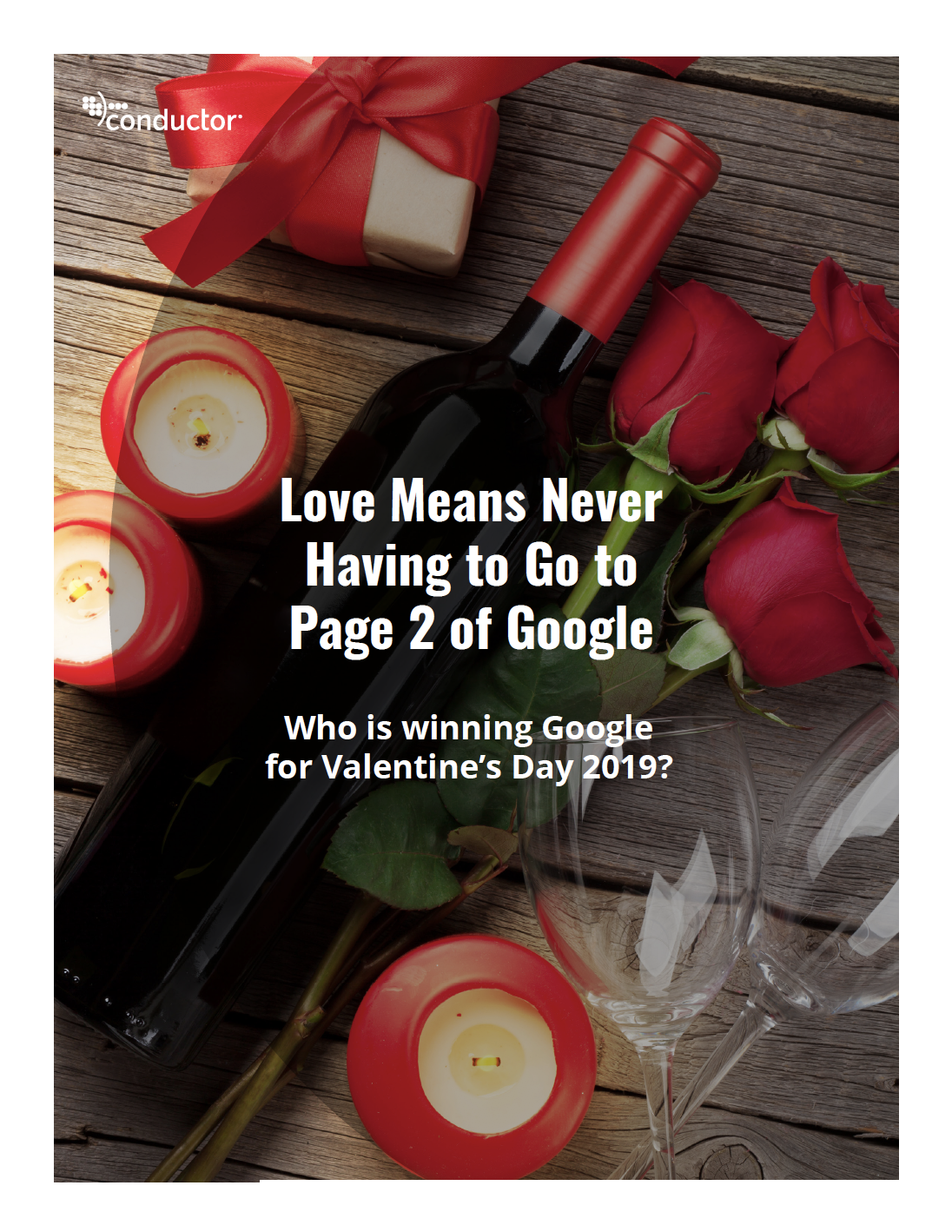 Get the latest tactics and strategies to help your brand win on the SERP in 2019, examples of best-in-class retail organic marketing, and data and insights for subcategories like flowers, chocolate, jewelry, and wine.
This Valentine's Day we searched for something special for all of you.  And what is the perfect gift for search marketers?  Data on searchers looking for gift-giving related keywords! In an SEO infographic!  We took a look at a number of keywords and chose 100 high volume gift-related keywords (search terms containing the word "gift") to look at under a microscope and what we found was pretty interesting. 
Keywords relating to a male-interest (guy, boyfriend, husband, etc) had higher monthly search volume when compared to similar terms of the female persuasion.  Google Trends data bolstered this finding with up to a 4x more likelihood for a searcher to be looking for male-related gift terms.  We should also note that of our final 100 keyword set, Valentine's Day related keywords were a solid 25% and Pinterest ranked in the Top 3 positions on Page 1 for all 100 terms 
.
The top-half of Page 1 of Google was also home to gifts.com (understandably), cosmopolitan.com (doing great with content), realsimple.com (the same), allwomenstalk.com, uncommongoods.com, etsy.com (cornering the handmade/homemade market), personalizationmall.com, askmen.com, and buyhimthat.com (a curious Pinterest-styled website specifically devoted to ideas for gifts for men).  Some of the keywords that made it in as modifiers outside of gender-included themes were "romantic," "cute," "ideas," "thoughtful," and "baskets."
Our takeaways to marketers? Target a wider audience by writing for and tracking other terms in addition to Valentine's Day specific terms.  Additionally, write content around gifts for men as well as gifts for women; but, you may want to test skewing more content for male-related gifts if your product or service line matches that market.  
Are you tracking Valentine's Day keywords?  What does your Content Team and Social Team tend to publish/promote this time each year?  We would love to know – tell us in the comments below!