Global SEO has taken center stage for marketers and is crucial to success in today's global market. While Google is the leading search engine in the U.S., Baidu is the leader in SEO and the mobile search market in China.
We had the pleasure of sitting down with the CEO and Cofounder of Dragon Metrics, Simon Lesser, to chat about some of the topics covered in Dragon Metrics' Ultimate Guide to Baidu SEO. Dragon Metrics is one of the leading global SEO platforms and a great, comprehensive option for Baidu SEO, and Conductor's partner in integrating Baidu data into Conductor Searchlight.
Q: What are some of the most common challenges for marketers new to China and Baidu SEO?
Baidu can be tough for marketers new to China SEO. The playing field is tilted against foreign companies.
SEOs often struggle with keyword research on Baidu and have trouble finding a way to get their sites hosted in Mainland China. Too many SEOs strictly translate their keyword lists from another language, which rarely produces results that match how people search in China, and it can be difficult to get sites hosted in China due to local regulations.
The strength of local competition presents yet another challenge to marketers new to Baidu SEO. Local competitors in China can focus their efforts on Baidu SEO and are more knowledgeable when it comes to the local market, preferences, and algorithms.
Link building in China is difficult, too – the prevalence of paid (non-editorial) links and link spam makes attracting local links from Chinese sites complicated.
Q: What's a good first step for a company that wants to break into Baidu SEO?
Assemble a great local language team. Baidu SEO is extremely challenging without a team with Chinese language skills. Your site should be translated into Simplified Chinese.
Then, look at technical challenges that may prevent your site from ranking well in Chinese SEO. Two great places to start: remove assets loaded from blocked domains from your site and secure hosting inside Mainland China if possible.
Q: What are the different search result types on a Baidu Search Engine Result Page (SERP) and what are some tactics to overcome the challenge of rich snippets for Chinese SEOs?
Typical features such as images, videos, and news play a big role on Baidu SERPs, but Baidu's Open Platform also allows site owners to create their own result types, meaning there is no limit to the number of different result types that can be displayed.
The right column on the Baidu SERP includes image links to related searches and ads. The number and relative size of ads on Baidu may be greater than on Google or other search engines.
There are three ways to overcome the challenge of rich snippets in Baidu SEO:
Get your own rich results on the SERP via structured data submission or Baidu's Open Platform.
Target long-tail keywords, which may have fewer rich results on page 1 but are still significant opportunities on Baidu thanks to China's massive population.
Try "barnacle SEO" – leveraging other sites' rankings for your benefit. Instead of trying to get your site's content ranked, consider building content on Baidu's platforms instead.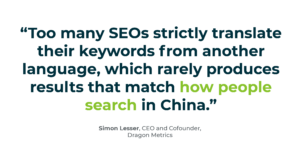 Q: Baidu heavily prefers Chinese language content. What (besides translating their content) do global companies need to do to make sure that their content will be indexed by Baidu?
First, make sure all of your content can be accessed without JavaScript — Baidu does not typically render JavaScript during crawls.
Then, submit your URLs to Baidu for indexation through either Active Push, which sends URLs to Baidu programmatically via API, or Auto Push, which utilizes a piece of JavaScript code on every page of your site to send link data to Baidu on each page visit.
Q: What are some page elements SEOs need to avoid to rank on Baidu?
While your site may not be directly blocked by the Great Firewall of China, it might still load resources from blocked domains, which can dramatically affect the speed of your site. Common culprits include Google Maps or YouTube embeds, social media buttons, and JavaScript libraries like jQuery or Bootstrap hosted on CDNs owned by Google, Twitter, or other sites blocked in China.
Consider using Chinese-hosted versions of these popular libraries when available.
Q: Google is moving toward mobile-first indexing. How does Baidu handle mobile search and SEO?
Mobile search is emphasized on Baidu. Baidu's algorithm favors mobile-friendly sites – those with fast-loading content and a smooth mobile user experience.
If your site is poorly optimized for mobile, it may be transcoded by Baidu. This means that Baidu will host a stripped-down version of your site on its servers and deliver this version to searchers. As the transcoded version removes ads, navigation, and other valuable content, this is something that most sites will want to avoid.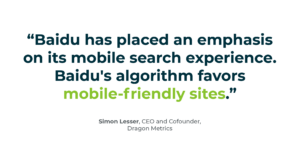 Q: What tools should companies invest in to set themselves up for Baidu SEO success?
Baidu Webmaster Tools is the primary two-way communication portal between your site and Baidu. You can use it to submit content for and monitor indexation, track rankings and traffic from organic search, and much more.
Baidu's Keyword Planner provides keyword suggestions and search volumes. Unfortunately, it's difficult for most to access: to do so, you need a PPC account with Baidu, which is not self-service and requires a valid Chinese business registration.
Thankfully, Baidu Index is available in Chinese to anyone with a Baidu account. It provides high-level popularity and trend data for head terms and offers demographic tools that let you drill deep into audience data for particular keywords.
Dragon Metrics provides a full suite of tools for Baidu SEO: keyword research, a ranking database of over 20 million keywords, and much more. Thanks to our new partnership with Dragon Metrics, Dragon Metrics' data is now available in Conductor Searchlight.
Check out Dragon Metrics' complete Ultimate Guide to Baidu SEO for more on Baidu SEO tools and best practices.