For retail marketers, seasonality is incredibly important. And for some specific categories of retail, February 14th represents a huge opportunity. Purveyors of gifts associated with romance leverage digital marketing and SEO strategies to drive revenue around the day of love. To figure out who is going to win Google for Valentine's Day 2019, Conductor tracked 3,811 Valentine-related keywords about chocolate, flowers, jewelry, and wine.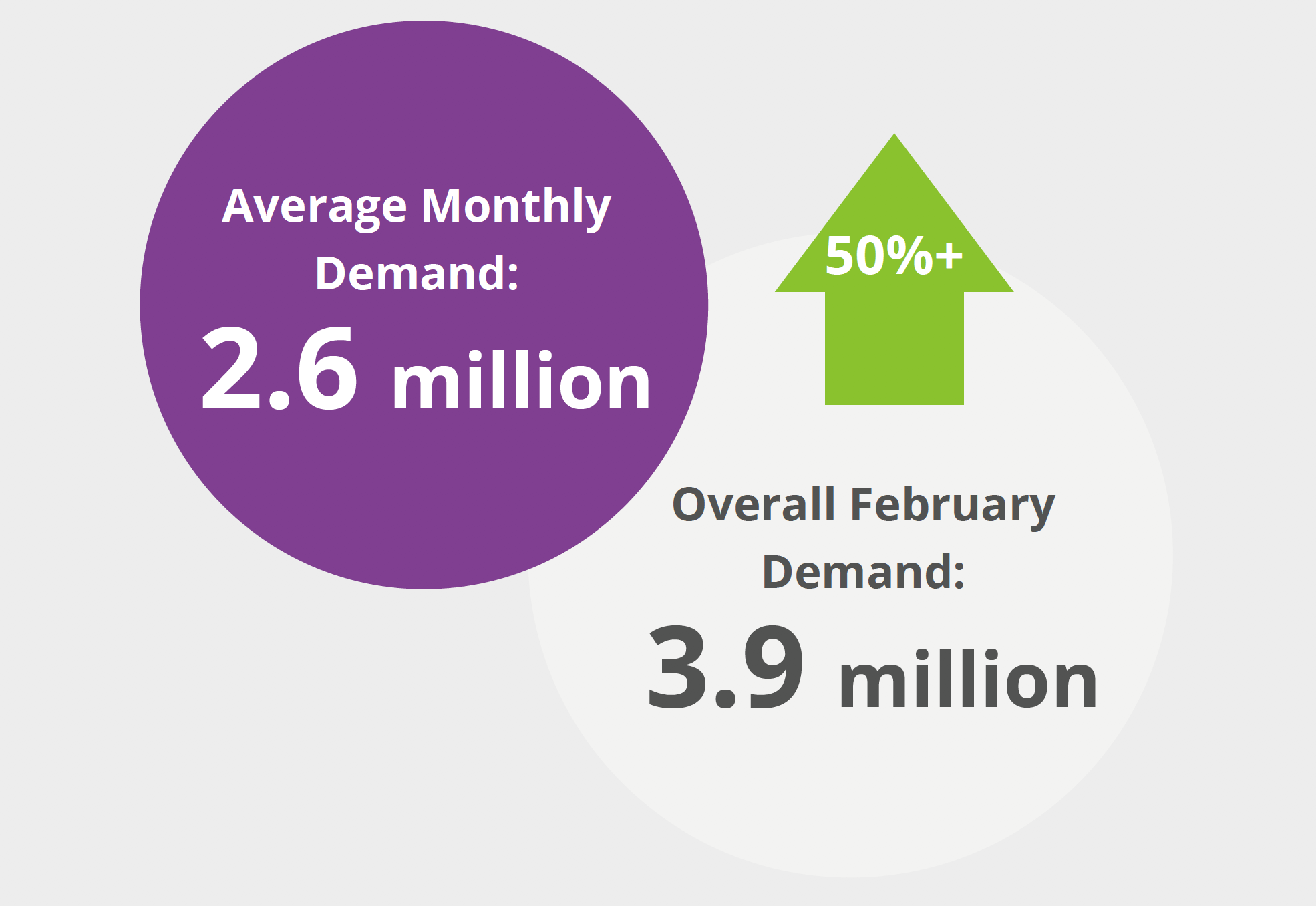 Chocolate: Discovering Customer Intent Behind the Searches
The average monthly demand for the 517 chocolate keywords we tracked is 172,000 searches. In February, that spikes by 45% to 250,000 searches. But the field has some extremely interesting findings, especially around the way the SERP results reveal different customer intent for key head terms in searches.
When we included the head term 'dark chocolate' in our analysis, page 1 of Google only contained one retailer: Amazon.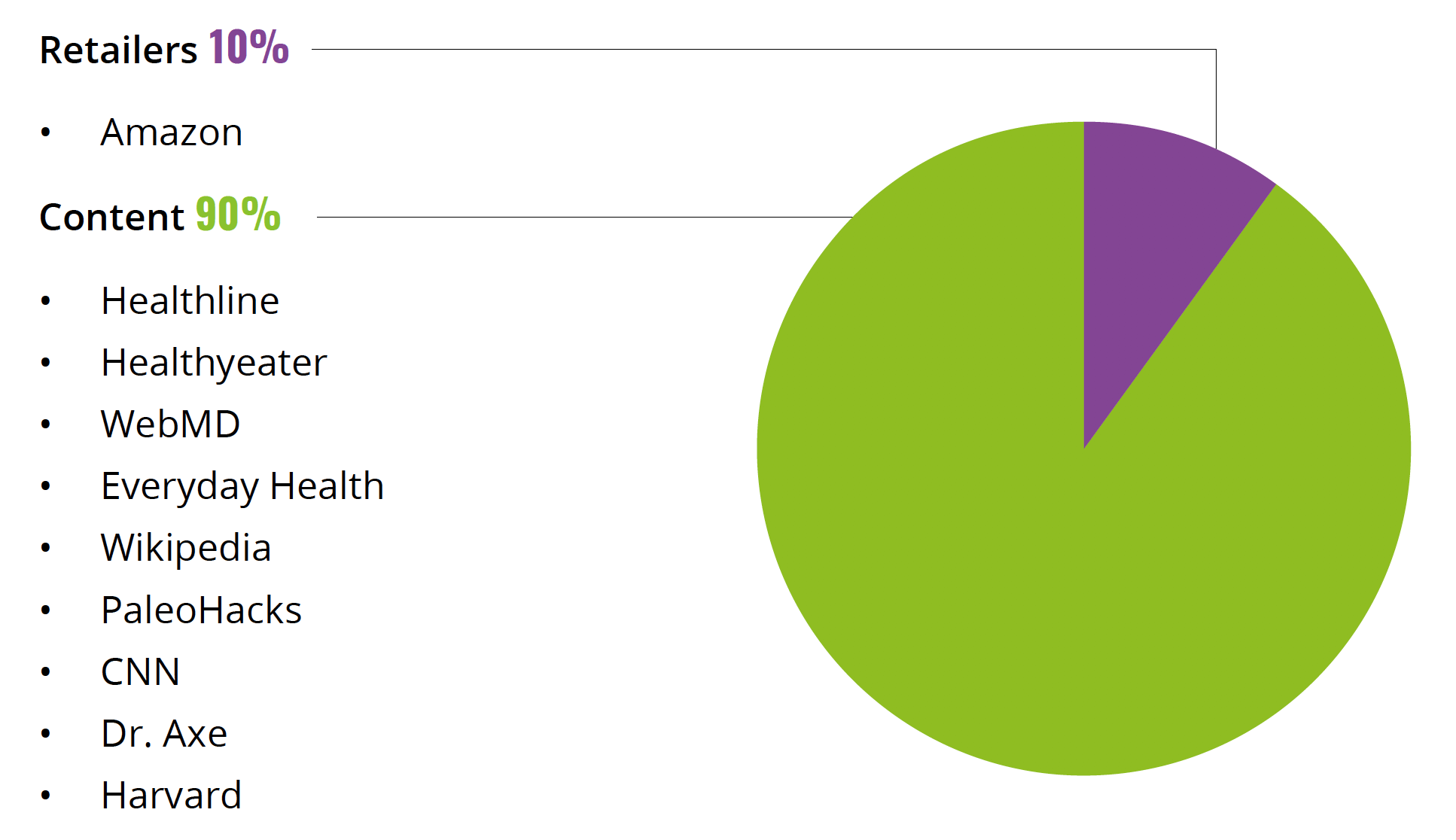 No other retailers are in the top 10. Meanwhile, healthline, healthyeater, and Harvard don't rank for any other chocolate-related keywords. It's clear from the SERP that Google has identified content (as opposed to product pages) as what searchers are actually looking for when they search for 'dark chocolate' (40,550 MSV).
So what does that mean for retail marketers competing for those keywords? Focus on writing high-quality content like recipes, health information, and product rankings instead of trying to optimize your product pages. A similar example is 'keto chocolate' (MSV 14,800). There we also see content on page one instead of product pages. But there's a deeper level of analysis we can leverage as marketers: 7 of the 10 top results for "keto chocolate" are recipe pages, giving us key insight into the searcher's intent.
For the full results, download the full report from the Conductor Learning Center.
Flowers: Dominated by Major Players, A Disruptor Emerges
Of the 586 keywords we tracked for searches for flowers, we found an 87% increase in demand for February (2.8 million searches) and the average monthly search volume (1.5 millions searches). For florists, Valentine's Day is the Christmas of the year in terms of business importance and revenue impact.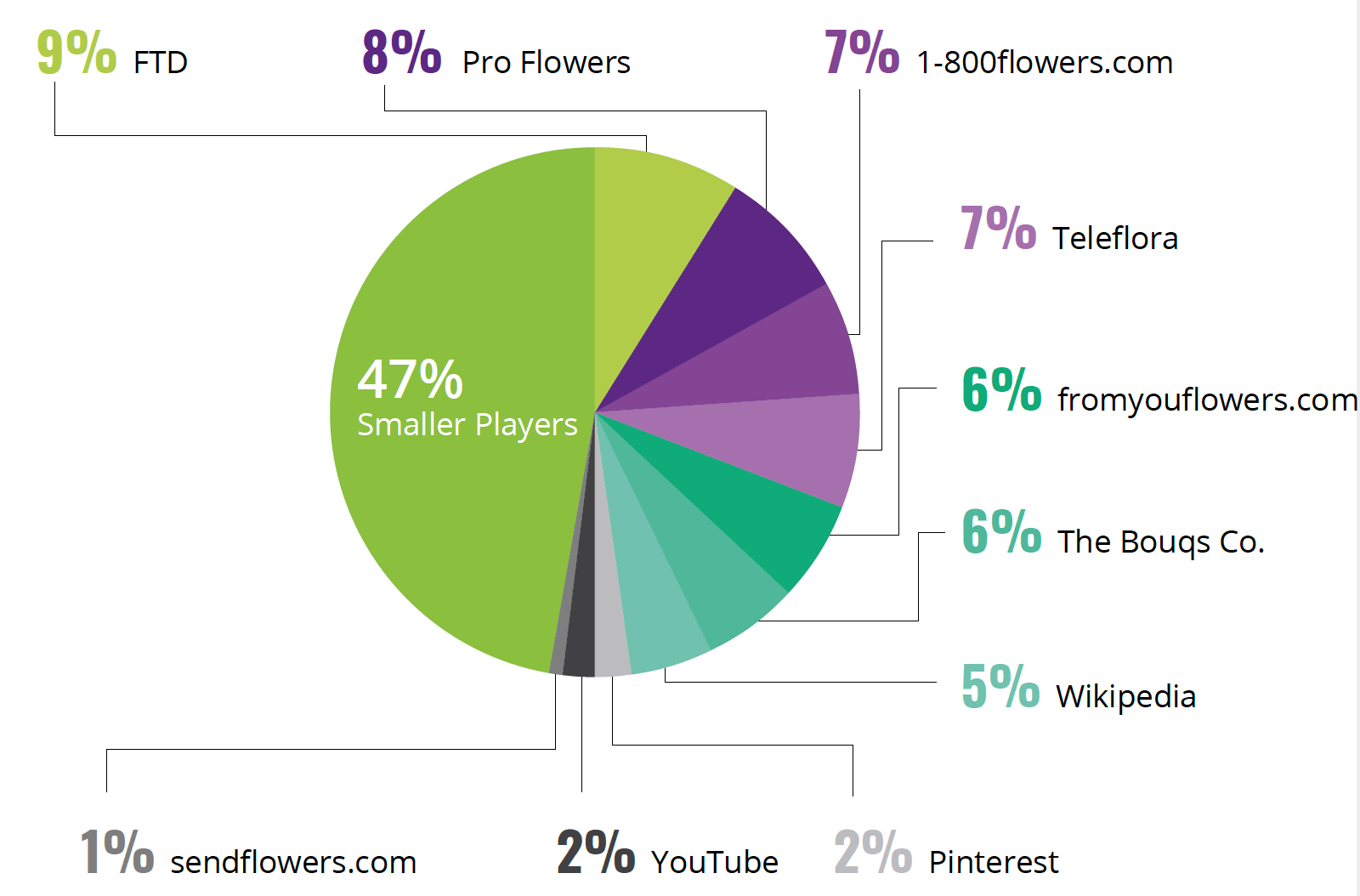 The top domains are long-standing flower delivery services like FTD and 1-800flowers.com. In fact, FTD actually owns ProFlowers as well, dominating a combined 17% of total market share. But that's not quite the whole story. In our research report, we break down the story of The Bouqs Co., a hyper-growth disruptor in the traditional florist industry.
The Bouqs Co. uses a combination of influencer marketing, millennial targeting, and search insights to improve their online presence and grow the brand at every level. That means a lot of strategic thinking around how to prioritize different initiatives on a start-up budget. Organic data and insights were a key way to target the right results. And they have found a level of succes that belies their small size on both the SERP and on the bottom line.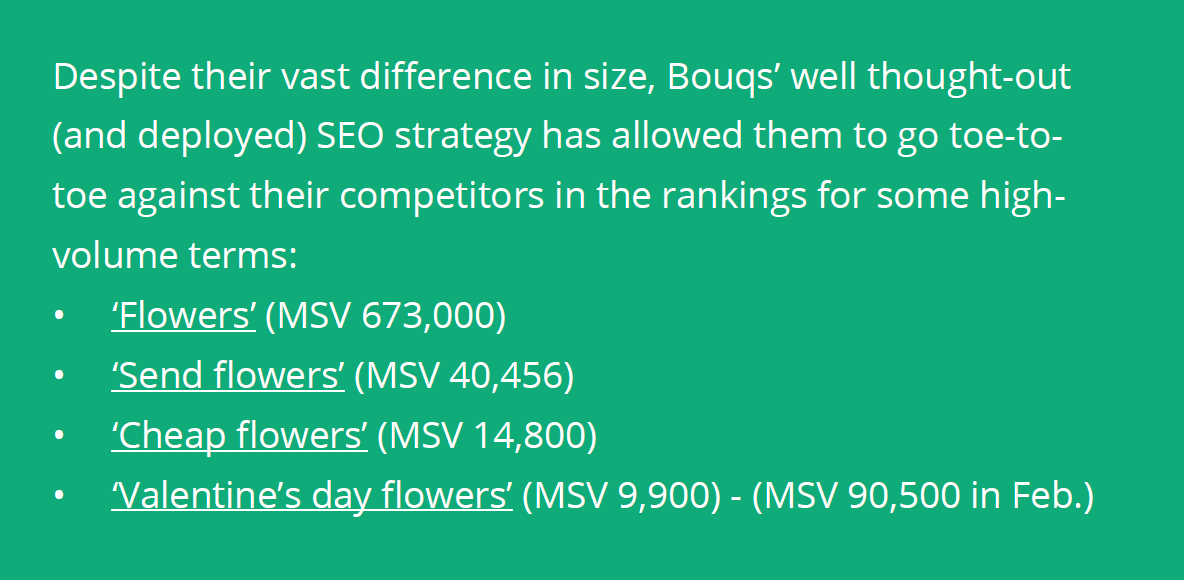 Get the whole story of The Bouqs Co.'s remarkable success by downloading the full report from the Conductor Learning Center.
Jewelry: Showing Up in Search at Every Stage of the Customer Journey
The 839 keywords we tracked around jewelry searches represent 485,000 average monthly search volume. Search volume for February does not show as dramatic a spike as chocolate and jewelry searches (only a 4% increase), but that's actually not surprising: the buyer's journey for jewelry is significantly longer than those other categories.
As an expensive purchase, jewelry requires more research than your average box of chocolates. The buyer's journey is particularly important for jewelry brands because people have a lot of questions before making an expensive purchase. Brands need to be cognizant of those needs and create content that serves people looking for information and direction at the top of the funnel, transitioning seamlessly from helpful educational content to consideration of products to purchase decision.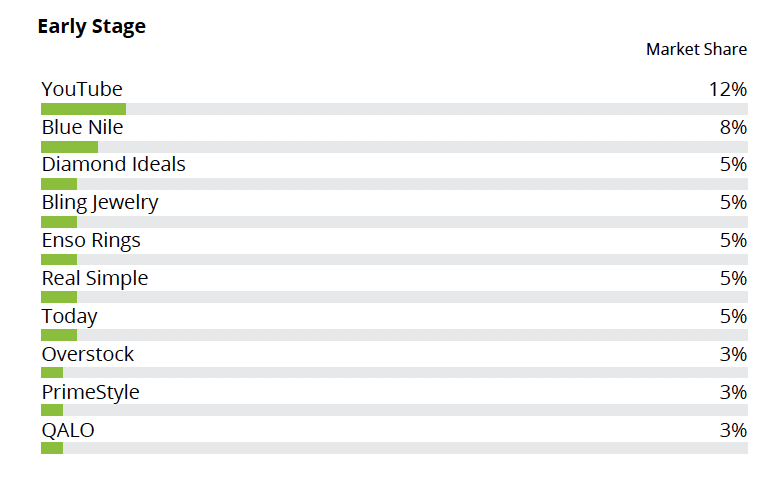 Note that YouTube tops the list because many of its videos rank for jewelry-related queries such as "how to measure ring size." But retailers can and should compete for early stage results: One piece of content on PrimeStyle, a brand with a single physical location in New Jersey, is ranking for 16 keywords around measuring ring size, putting it on page 1 of the SERP and visible to over 52,000 people. That's an enormous impact.
Learn about every stage of the jewelry customer journey (and what retailers are winning): download the full report from the Conductor Learning Center.
Wine: More Options for Search Means a Better Customer Experience
The nearly 1,650 keywords we tracked around wine searches represent an average monthly demand of 231,000 searches (in February, surprisingly, we found a 3% decrease in search volume). A great deal of the SERPs are dominated by educational content, from FAQs to information on how to choose wine or best-of lists.
Total Wine owns all three stages of the customer journey for wine, and a major distinction between it and other wine retailers is how granular they get when they categorize wine on their site, most notably by brand. Major competitors like wine.com nor wine-searcher do not offer the same feature.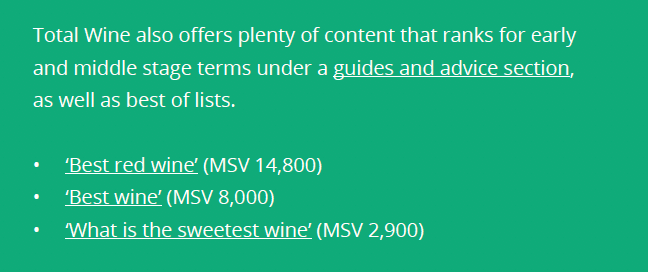 Allowing your customers to search for wines by a variety of factors when they are at the consideration and purchase stage and offering plenty of content helping customers answer their questions around their core expertise are examples of best practices from both a product SEO and content SEO perspective. It also represents more opportunities for Google, by providing additional pages for Google to index to rank the site for branded terms.
Need more seasonal retail marketing insights, data, tactics, and strategy? This is just the beginning: download the 2019 Valentine's Day Retail Marketing Report from the Conductor Learning Center.