I recently attended my first MozCon, and it was amazing. Seattle not only offered a great backdrop for MozCon 2019, but meeting and networking with like-minded SEOs was a blast. Not to mention the coffee that fueled my time there, as well as the beautiful weather while back home NYC was in the middle of a heatwave.
The real highlight, though, was the wisdom and insight from the wonderful speakers at MozCon 2019. My main takeaways were about 2 major trends that everyone should know about, whether you were lucky enough to attend the conference in person or not:
Google wants your answers

Local search is expanding
Mobile-First Indexing: Google's Way of Getting All the Answers
Cindy Krum, CEO of MobileMoxie, explained it best: Google is realizing that "people want answers more than they want websites." That represents a significant shift in the way SEOs and marketing teams approach organic marketing. And we saw data presented throughout the conference that supported that idea.
Over the last few years there has been a huge increase of Featured Snippets and People Also Ask (PAAs) entities showing up in search engine result pages (SERPs).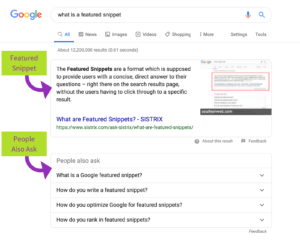 Featured Snippets show up on approximately 23.9% of SERPs which is an increase of 165% since 2016, according to Britney Muller of Moz. Britney also mentioned that 65.5% of SERPs contain a PAA entity.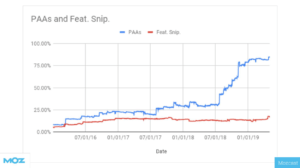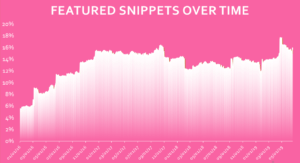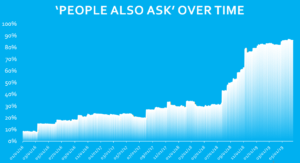 How does the rise of featured snippets and People Also Ask impact search in 2019? According to Rand Fishkin, Google searches in Q1 of 2019 resulted in:
Organic Clicks: 41.45%

Paid: 3.5%

Zero-Click Searches: 48.96%
Nearly half of Google searches resulted in no organic traffic. In fact since 2016, Google has sent about 20% fewer organic clicks on browser searches.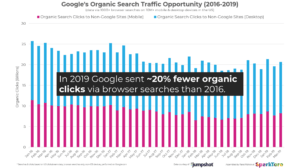 What is the Future of SEO? More Searches = Fewer Organic Clicks
What does this mean for SEOs? 
The search landscape is definitely changing. Although people are searching more every day, the increase of featured snippets and other SERP features results in less clicks to sites. Google wants to keep users on Google rather than have them go somewhere else.   
Should you start to target featured snippets? 
Rand Fishkin makes it simple: ask yourself if going after featured snippets (zero-click searches) is worth it for you or a client. SEOs should think about how brands can benefit even without a click using a simple zero-click decision tree.
Should you go after rich snippets, even if it may result in lower traffic to your site? This decision tree from @randfish can help #MozCon pic.twitter.com/sQEX4nZEJ6

— Mitch Hankins (@mhankins12) July 15, 2019
Ruth Burr Reedy, the Vice President of Strategy at UpBuild brings up another important consideration for marketers: why are we only interested in traffic when considering which keywords to target? What about the big picture: brand awareness, share of voice, and more? interesting point that branding and messaging are very important and that targeting all keywords are important.
Why are we so concerned about traffic? What about branding/messaging/share of voice? You can't NOT target a keyword just because it has a Featured Snippet @BritneyMuller #MozCon

— Ruth Burr Reedy (@ruthburr) July 17, 2019
If you do decide to go after featured snippets, Christi Olsen, Head of Evangelism for Microsoft, and Britney Muller, Senior SEO Scientist at Moz, explain that it's important to remember the three formats featured snippets come in and what their trigger words are: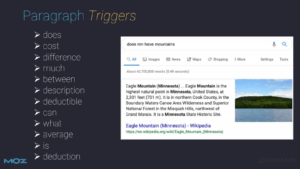 Lists (bulleted + ordered)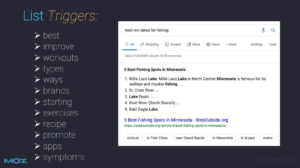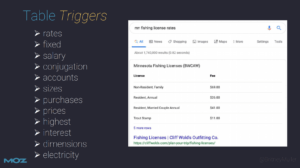 According to Christi Olsen, optimizing for featured snippets also means optimizing for Voice Search, because 40% of spoken responses come from featured snippets. Targeting featured snippets and PAAs can actually put you ahead of the game in one of the major new developments in search.
Google's New Search Focus is Local Search
In a new study, Rob Bucci, VP of R&D at Moz, found that 73% of the 1.2 million SERPs crawled contained some localized feature (local packs or other local results). The study results also indicated that 25% of the SERPs they were tracking "had some degree of variability between markets in the United States." Even within a certain market, SERPs can vary by ZIP code with 85% of SERP variability across zip codes in the same city.  
The conclusion? If location impacts search results that much, even for queries that don't have local intent, "national SERPs don't [really] exist." 
Mary Bowling, co-founder of Ignitor Digital, dug into the history of local search. From 2011 to 2014 local features stagnated. In 2015, however, Google really started to focus on local search, adding many of the features we know today. Google's CEO Sundar Pichai explained that Google is "moving from a company that helps you find answers to a company that helps you get things done," hence (maybe) the recent emphasis on local search.
Despite the rise of zero-click searches Mary explains that Google gives local business huge opportunities to increase conversions. Mike Blumenthal found that 70% of local business conversions happen on the SERP, with the rest happening on websites. The lesson? Local businesses should be focused on owning branded SERPs. 
The Top 3 Ranking Factors for Local Search:
1. Proximity
Your ranking will vary by the user's location. Joy Hawkins, Owner and President of Sterling Sky, showed how rankings changed for dentists in the Houston area by searching just 0.5 miles apart.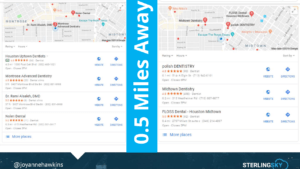 As previously mentioned, rankings can vary across zip codes, and that means it's important to track how your business ranks between them. But it doesn't end there: Hawkins pointed out that even within specific zip codes your local ranking can differ.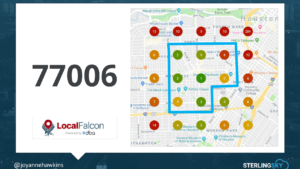 Within the single 77006 ZIP code in Houston, TX, a local business's ranking ranged from first to eighth. 
2. Google My Business (GMB) Landing Page/Site
Darren Shaw, founder at Whitespark, did some research of his own as well. He took a business that had no rankings and created a brand new GMB listing, as well as a website for the business using Google My Business' website builder that automatically includes Google reviews on the site. 
Eventually, he created a full website for the client and saw rankings jump after reindexing through Search Console.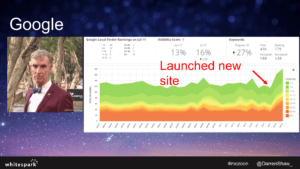 Joy Hawkins also observed similar results after she changed her clients' GMB listing from the location page to the site's homepage. Joy explained that rank increased because her homepage had more authority and links pointing there compared to each of the location pages.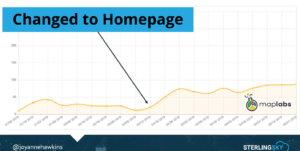 3. Reviews
According to Whitespark, reviews account for 15% of Google's local business rankings. Darren Shaw explained that it's essential to have a review strategy in place to encourage customers to place reviews on Google, but keep in mind that it's equally important not to violate Google's Guidelines for GMB. 
Shaw saw ranking improvements during his case study once Google Reviews were posted on the client's GMB.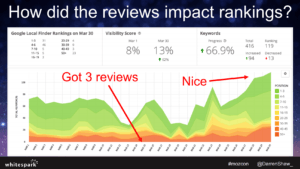 On the other hand, Joy Hawkins did not see similar results. That just means that, although Google Reviews are helpful, they aren't the only thing you should be doing and rankings are based on more than just who has the best reviews. 
It's important to remember that these are not the only 3 factors that can improve local rankings: they don't include best practices like implementing keywords in the title of the GMB listing.  
Are you practicing #BetterBarketing?
I wanted to close out by mentioning the amazing event we hosted in Seattle during MozCon: Pints, Puppies, and Putt-Putt. We actually raised money for a local shelter and got to meet some of the amazing dogs up for adoption!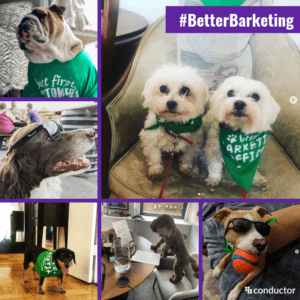 In the spirit of the MozCon community and because dogs are great, we're giving away some Chief Barketing Officer dog swag so you can show off your favorite pooches on social media and enter our contest to win a $100 Visa gift card.
To enter the contest all you have to do is:
Post a picture of your pup (or any pup) wearing Conductor SWAG.

Use #BetterBarketing in your post

Get entered to win!