An SEO Platform Is A Must For Every In-House SEO Team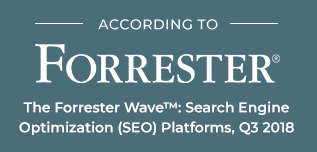 Forrester is one of the most influential research and advisory firms in the world. Their definitive evaluation of the top SEO platforms involves rigorous technology testing, customer interviews, and assessments of product roadmap and strategy. Forrester's report enables marketing leaders to make the right choice for organic marketing technology and services partners.
Conductor is a Leader in the Forrester SEO Platforms Wave™
Conductor is proud to be part of Forrester's authoritative evaluation of SEO platforms, which determines the top SEO platforms according to a 23 criteria evaluation.
With top rankings in both the current offering and strategy categories, Forrester has determined that Conductor is a Leader in this Wave evaluation.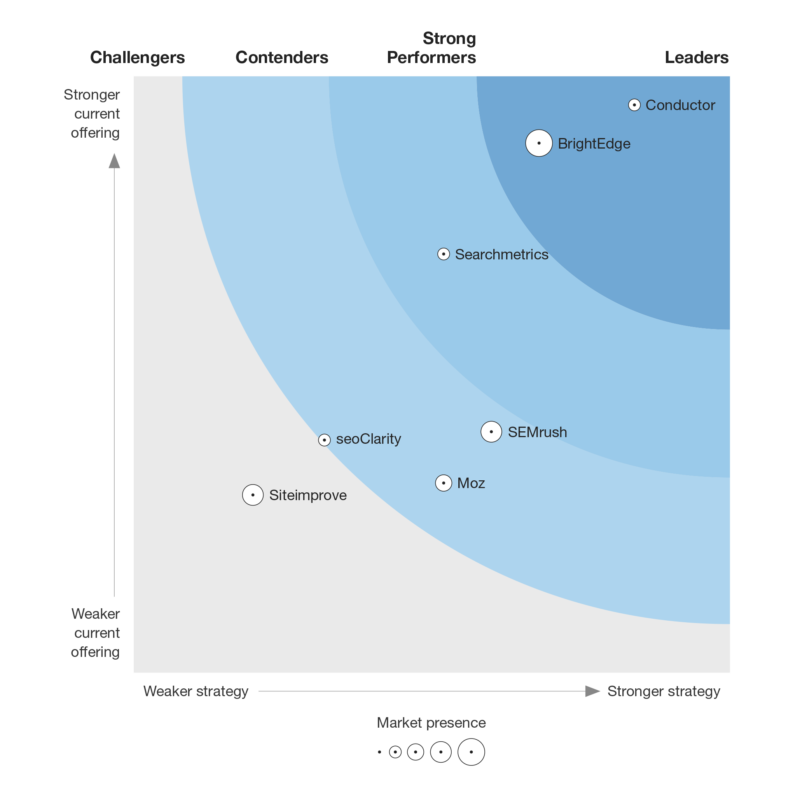 "Marketers responsible for SEO and content marketing who are looking for a vendor that takes feedback seriously shouldn't look any further than Conductor."

-The Forrester Wave™: Search Engine Optimization (SEO) Platforms, Q3 2018
Why You Need an SEO Platform
Digital marketing spend is going up. Is your ROI increasing at the same pace?
It's harder than ever to buy attention with paid marketing, so it's no surprise that organic traffic now represents over 50% of most site traffic. But as the organic channel matures, it's also earning dramatically more investment and growing increasingly competitive.
High-quality content is the long-term solution that will protect your organic traffic from competition and earn the attention of new high-value customers. Investing in content and SEO now will save you from upping your paid marketing spend in the future to diminishing returns.
Given the huge impact of SEO on your business, you need to be in control of your own search data. To manage all of your data, your workflows, and your content performance, you need an SEO platform.
Conductor Received the Highest Score Possible, 5/5, in 15 Criteria
Conductor received the highest score possible, 5/5, in 15 of Forrester's SEO Platforms Wave evaluation criteria — and the highest scores in the categories of current offering and strategy.
Workflow and Process Management
Why Conductor
Our platform has all of the features you need, but what makes us a leader is our forward-looking strategy. Our vision is to humanize marketing: to transform marketing into a force for improving people's lives.
Conductor Searchlight is the only platform that can drive this strategy and help you make a real positive impact. We boost your efforts in three areas key to the future of marketing:
Customer voice: understand the needs of your customer and speak their language with the deepest customer intent insights and the most complete search dataset in the industry
Content creation: find content opportunities and clearly and confidently report on the results of your content activities