Imagine you're on your favorite shopping site, browsing for some fresh looks for summer. You add a few things to your cart and are well on your way to checking out. As you navigate the checkout process, you stumble across the ever-present "Coupon Code" box.

What do you do?  You're probably thinking — "I should find a coupon code so I can save money. To Google!"  Like most shoppers, you open a new browser tab and search for "XYZ brand coupons" or something similar. The results are going to look pretty similar no matter what kind of coupon you searched for – a slew of third-party coupon websites such as RetailMeNot, Groupon, and Coupons.com (even CNN is getting into the coupons game!) that serve up promo codes that often don't work or aren't relevant to what you're actually looking for. 
So there's a good chance you'll abandon your shopping cart… or if you don't, you'll probably be less satisfied with your purchase and your favorite shopping brand will have to pay an affiliate commission on your entire sale (even if you don't use the promo code).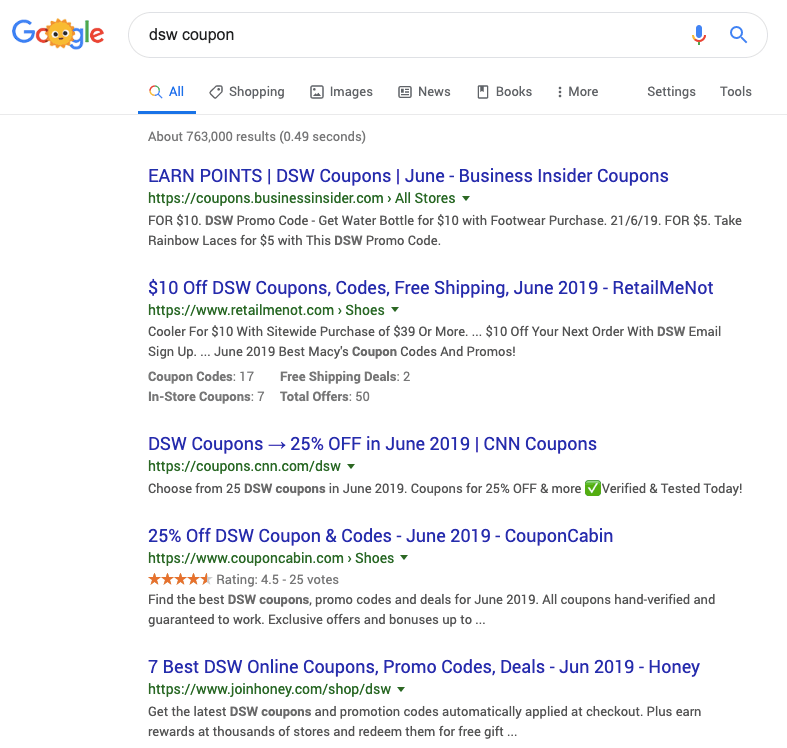 Customer Behavior and Branded Promotion Searches
This shopper behavior is very common and on the rise as shoppers realize they have more choices than ever, which means that the SEO opportunities around coupons are massive for most brands. In fact, it's most often the #1 category for search volume for a brand. Plus these searches are high-intent, which means they are even more critical to win. Recent data indicates that 97% of shoppers search for deals when shopping, and that 75% of digital shoppers indicate offers are the top factor in determining where and what to buy. 
Coupon websites (aka "coupon affiliates") like RetailMeNot have dominated in SEO since the early 2000's and created a multi-billion dollar industry from these keyword searches. While these coupon affiliates do add some value, EVERY brand should want to win its branded SEO keyword searches no matter the industry. And in the retail industry, there is even more incentive (pun intended) for brands to win in this important search area. 
First and foremost, not winning these keyword searches is costing brands money in the form of 1) missed revenue and 2) unnecessary commissions. By winning, I mean ranking #1 for as many keyword searches as possible since click through rates for the top organic position are typically more than 2x higher than ranking #2. We've seen first hand that brands can get up to 3-4x higher conversion from this high-intent shopper group and can save significant affiliate commissions when they rank well. Moreover, brands lose important control and can suffer damage when they are out-ranked by coupon affiliates. 
The Customer Experience: A Win-Win Strategy for Promotional SEO
Let's play this out — what deal should your favorite brand show you if you were looking for summer clothes? If a coupon site wins the search click, you'll probably see something completely irrelevant or a code that doesn't work. If your brand wins, you can see the most relevant summer clothing offer that other shoppers with similar intent have leveraged. Which scenario is most likely to lead to a sale? And which scenario is likely to cause cart abandonment, unnecessary commissions paid, or a competitor winning the sale? 
Above we saw that a "DWS Coupon" search shows coupon affiliates winning in all the top slots on the SERP. If we follow this search through, we see aggressive ads and offers featuring DSW's competitors. This happens all the time. Furthermore, the coupon affiliates have gained control over what a brand's shoppers see, and they are monetizing that control.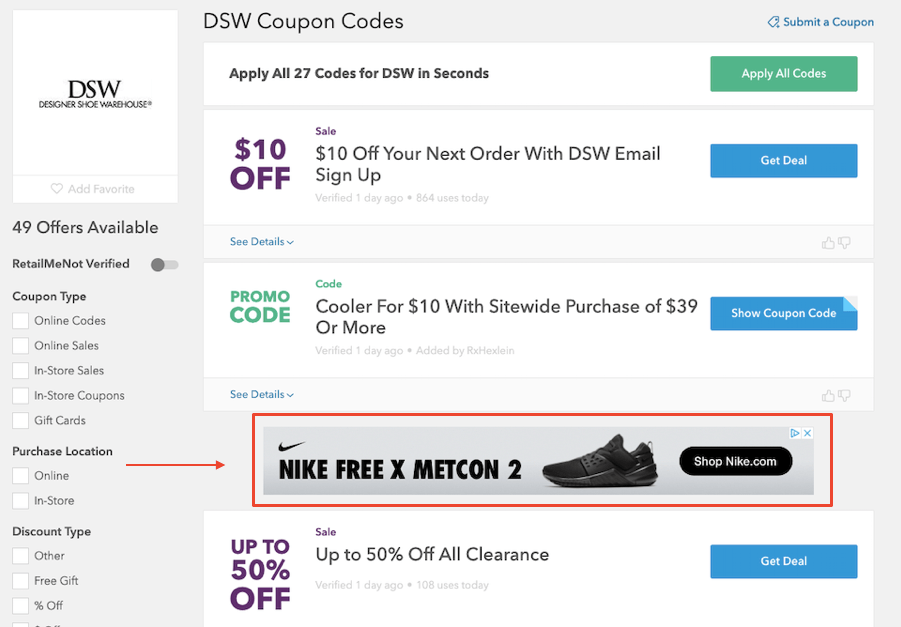 On the flip side, if a brand wins, shoppers more easily find what they are looking for and the brand increases its chances for a conversion, doesn't pay a commission and completely controls the shopper experience. 
The coupon SEO opportunity isn't limited to a brand's own keywords; there are a ton of SEO keyword searches around a brand's products, categories and the brands they sell. In the example below we see Shoe Carnival winning a relevant category search and thereby acquiring new customers from free clicks, while Zulily and Nordstrom Rack have to pay for the same clicks.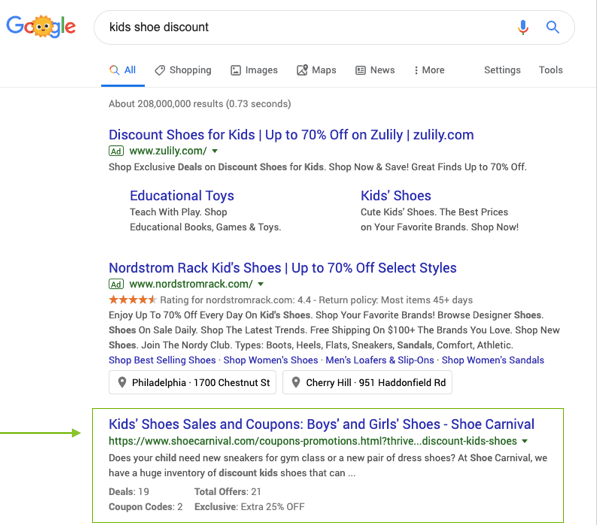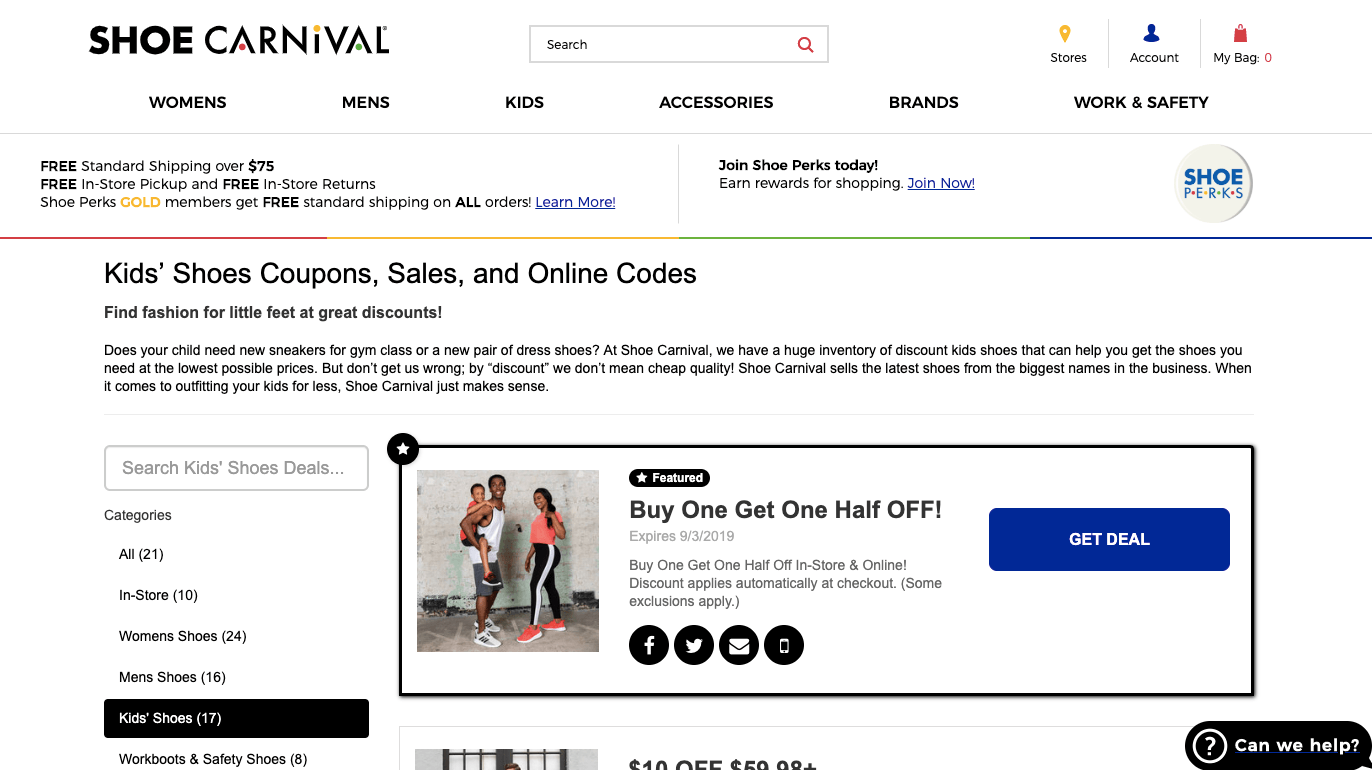 Now that we've established this is a must for your eComm strategy, let's take a closer look at best practices on how to: 1) win this search traffic, and 2) maximize the traffic once shoppers arrive.
How to Win Coupon Keyword Searches
1. Build a dedicated offers page directly on your brand's URL. 
Google will naturally favor your brand for its own keyword searches. But beating massive coupon communities like RetailmeNot isn't easy; so you'll likely need to employ #'s 2-6 near-perfectly to actually win.   
2. Use best practices for keyword discovery and copywriting.
Make sure you're putting the right keyword strategy in place that properly reflects the SEO opportunity & jives with your brand. 
3. Update the page frequently.
Google likes fresh content, updates and activity.  Through experience we see too many offers pages that started as a good idea and are never updated. 
4. Leverage strong internal linking and avoid any competing content.
Make sure you're linking to the offers page from relevant articles, blog posts, product category pages and that you've scrubbed your site to make sure there are no legacy offers pages that would compete with your new SEO-driven offers page.
5. Employ a multi-page structure that resembles the categories in your main navigation. 
Each category of non-branded keyword targets needs its own page in order to provide a chance of ranking highly.  You can even use these pages for brands you sell (they usually have good SEO opportunities) and for seasonal SEO (i.e. "black friday shoe deals").
6. Use structured data.
Include the number and types of offers such such that the structured data shows up in the Google SERP to increase click through rates. 

How to Maximize Promotions Traffic
1. Maximize conversion. 
A poorly designed, text-based offers page won't do very well with respect to conversion. You will need a best-in-class user experience, along with freshly updated offers. Ideally, the offers should be machine learning based in order to show the right offer to the right shopper.  
2. Maximize average order value.
Know which offers work and which do not; and tailor your offers around various spending thresholds that are geared towards getting shoppers to spend more money. A smart offer can raise the average order value by 15-30%.
3. Drive online traffic to stores (if applicable).
The best customers are multi-channel…and the vast majority of in-store purchases start with an online search. Create offers that have barcodes/QR codes/Apple Wallet that send shoppers from digital to physical stores and can attribute said revenue.
4. Collect shopper data.
Turn promotions into a quid pro quo. Use data requirements to motivate a shopper to provide his or her email, mobile number, etc. in exchange for the code, and make the code a single use code to avoid having the offer go viral into places it wasn't intended for that also make attribution more difficult. 
5. Track data & improve your promotions strategy.
Track promotions engagement all the way down to the click level to better understand what promotions work the best and least; and use the data to inform your future promotions strategy. 
Now go win that traffic & revenue and take control back of your brand (and save your brand some commissions too)!
To learn more about leveraging smart promotions for a winning SEO strategy, download our webinar or contact Thrive Commerce at sales@thrivecommerce.com.