Conductor and SEMrush are expanding on our strategic partnership in an unprecedented way to provide even more unique value to marketers as we continue to tackle challenges for enterprise brands.
Our partnership with SEMrush started way back in 2012. Since then, Conductor has incorporated SEMrush's industry-leading index of search intent data into our platform to augment our own search intent data, helping us deliver the most effective, data-driven marketing insights to our customers. This ensures Conductor customers have the most accurate and complete customer data to inform their content and search strategy.
In our new long-term agreement, Conductor & SEMrush will be going a step further. In an industry first, our R&D teams will be joining forces to co-develop unique capabilities exclusively for Conductor customers. That means better support and dedicated solutions to serve the growing needs of enterprise brands in the long-term. The outcome is tailored solutions for our customers to better analyze and optimize their organic marketing performance.
We will not only be able to increase the velocity of product development and enhance current capabilities but also deliver first-to-market innovations that are only available for our customers.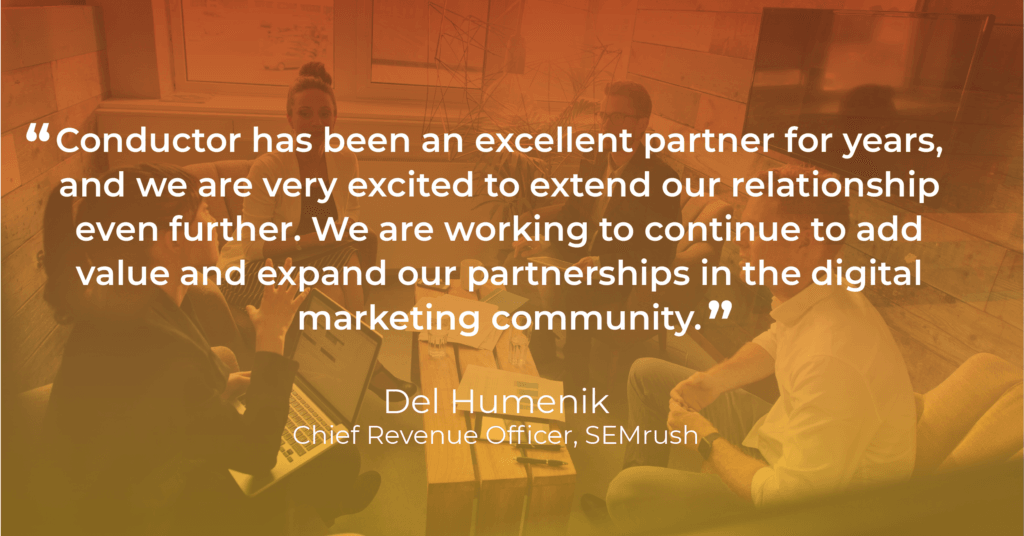 The expanded partnership also ensures that Conductor customers continue to have the most robust datasets powering Conductor's insight engines. SEMrush has the leading keyword indices in the industry in terms of both coverage and depth, and our long-term agreement guarantees our customers' continued access to SEMrush's best-in-class data and Conductor's world-class insights.
This partnership reinforces our commitment to expanding our robust Partner Ecosystem. When leaders in the space combine forces, innovation flourishes – and our customers win.
Our customers feel the impact of and benefit from our partner ecosystem everyday.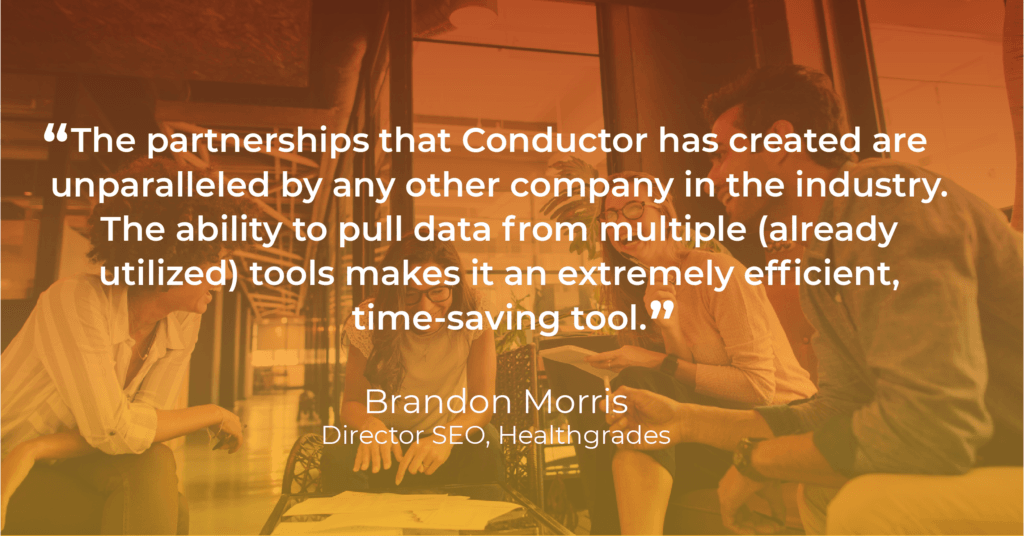 This is the third major partnership we've activated this year. In March, we announced a new partnership with the number one global real-time link analysis and optimization platform for websites. That same month, we introduced new on-demand Baidu search data from another partner, the leading search platform for the APAC region, into our platform.
"We take an ego-less approach to product development and look to solve our customers' problems anyway we can. We believe that the winning platform of the future will bring the best of the best technologies together to foster innovation and drive the market forward," said Seth Besmertnik, Conductor CEO & co-founder. "For our customers, the synergy of our partner ecosystem results in a one plus one equals a lot more than two scenario."
Stay tuned for more big announcements about our technology partner ecosystem – we're only half way through the year and we are looking forward to creating more opportunities for innovation and collaboration with the best marketing technology out there. We're committed to bringing the best of the best into our platform for our customers, and we're just getting started.