Hosted by ClickZ and Search Engine Watch, the MarTech Awards recognize the best marketing technologies across a number of categories and the marketers leading the way for their companies and the industry at large. Scoring involves both industry expert judges and the readers of Search Engine Watch.
We couldn't be prouder at Conductor to have won two 2019 Marketing Technology Awards. Our platform, Conductor Searchlight, won Best SEO Tool, and our CEO Seth Besmertnik (looking quite dapper at the ceremony!) took home the Marketing Technology CEO Award.
These wins are so exciting for us at Conductor because they show that our vision for the future and our mission to humanize marketing are making a broad impact in the marketing industry.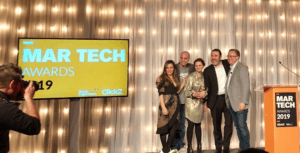 Best SEO Tool: Conductor Searchlight
We've worked hard to focus our platform on providing value to our customers, helping you reach more of your customers and drive revenue with SEO and content, and we believe that's what ultimately earned us the award for Best SEO Tool.
Conductor Searchlight was evaluated against competitors across a number of key categories: fit for purpose, ease of use, customer service, value for money, onboarding, integration, and innovation. In all of these categories, we've made strides to put customers first, with better workflows, better partnerships, better services, better user experience, and more.
Now, we're only going to double down on our commitment to build the marketing platform you need. Our vision is to spread the power of search insights to every corner of every organization, so we'll continue to work hard to make our platform valuable to everyone.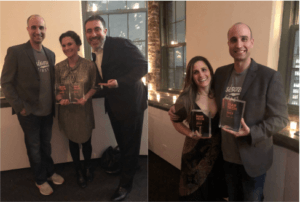 Marketing Technology CEO Award: Seth Besmertnik
At Conductor, we're driven by our mission to help companies meet their customers' needs with their marketing. We call this humanizing marketing, and it's how we can make a positive impact on the world as an industry.
Our CEO Seth is committed wholeheartedly to this mission, and this commitment has sparked Conductor's success as a company. We're proud that he was recognized for his dedication with the Marketing Technology CEO Award.
Seth shared with the judging panel the story of his role in our shift to a customer-first and people-first mentality at Conductor, which propelled our recent growth and acquisition by the We Company. His win shows the power of our mission to humanize marketing and the quality of our culture at Conductor.
An Award-Winning Year
These awards are only the latest for Conductor in a year full of great third-party recognition. Here are some of the other accolades we've received in the past year:
None of this would be possible without the great customers we partner with every day. Thanks to everyone we work with – we're going to use this as more fuel to make our vision a reality.
Interested in learning more about how we help our customers? Check out some of
our customer stories here.