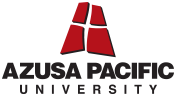 A Crash Course in College Rankings: Azusa Pacific University on SEO
The Goodwill of Greater Washington is a DC based non-profit that transforms lives and communities through the power of education and employment. This is the story of the evolution of the Goodwill of Greater Washington team's SEO knowledge and digital strategy, straight from their digital marketing team.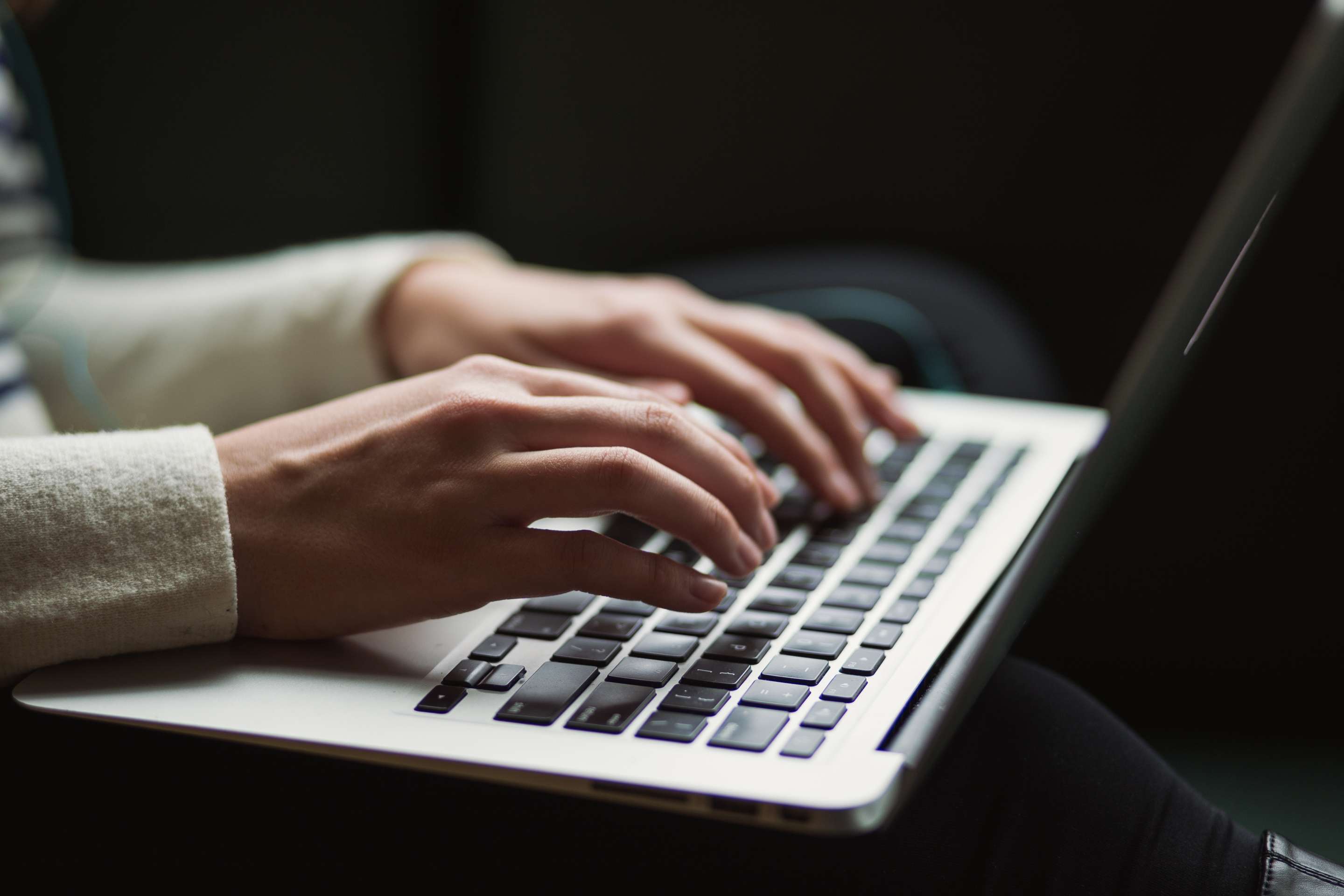 Headquarters
Azusa, California
Competition for student enrollments is fierce. Higher education is one of the most competitive industries in the world. In the US alone, there are over 7,000 higher ed institutions competing for just a few spots online.
How does Azusa Pacific get noticed among a sea of for-profit universities with bigger marketing budgets? They "own their backyard": actively building an organic presence, powered in part by Conductor Searchlight.
Rafi Maljian, Executive Director of Marketing
At Azusa Pacific University, we have a wide variety of programs with a Christian emphasis. That variety is great for our students, but there's a downside: fierce competition with face-to-face and online schools competing for the same students. Boundaries for school's backyards have disappeared. Because our programs are so diverse, we have different competitors for each school; i.e. business, education, nursing… each have their own set of competitors.
From a competition standpoint, we can only afford to do so much in traditional media mediums like billboards, print, radio and television. When traditional media works, it drives people online towards search.
You can get people's attention with traditional advertising, but they ultimately make their decisions online.
Challenge: Traditional advertising has its limits. You may get people's attention with traditional advertising, but they ultimately go online to make their decisions.
Because of this fact, we need to show up in relevant searches next to our competitors, for both paid and natural search channels. Paid search, however, can be prohibitively expensive, and some people tune it out; which puts more emphasis on the success of natural search.
This is especially important for Azusa Pacific's program pages which we know is are vital pages in the decision making process.
These days, potential students may not even inquire. They'll go straight to an application. Inevitably, they have been shopping around online for a while and have enough information to make a decision without consulting with an enrollment counselor, or faculty member. It's this paradigm switch that makes Conductor so valuable for us.
Strategy: Since most potential students conduct online organic research before they ever submit an application, we actively build a strong online presence, appear for relevant searches, and make sure they get the information they're looking for within the first few clicks.
Dustin Reynolds, Assistant Digital Marketing Director
As a nonprofit university, one of our struggles is usually budget. For-profits can afford to spend a lot of money online, making paid advertising an extremely difficult space to get a foothold in.
That's where our non-paid strategy really does make a difference. We think of it as "owning our backyard." We make sure that we're coming up for relevant, organic searches.
Challenge: For-profit universities in our space have large paid search spends, so it's extremely difficult to compete for paid advertising space.
Once searchers get to our website, we make sure information is easily accessible and the navigation is intuitive. People should find what they want within the first 3-4 clicks on our site. And our website is around 15,000 pages, so we have to be very strategic about getting the right information to the right person quickly.
One of my favorite things to look at in Searchlight is our workspaces. For example, we created a specific workspace that monitors three new academic programs, and we were able to test and tweak the page elements of those program pages to get them to start ranking. We're using that data to understand what worked and what didn't, and repeat our successes.
Strategy: Build high-level Searchlight workspaces to test optimizations and improve our organic visibility for important programs.
It's not just our team that looks at our Searchlight data. Our Conductor Customer Success team will look at our workspaces and dig into specific results or create new reports and workspaces.
We are constantly learning from the Conductor team. We love that we've always had talented, friendly people who help us tailor Searchlight to Azusa Pacific's needs and know the platform inside and out.
Caitlin Gipson, SEO & Marketing Consultant
When I started in SEO, I looked at our rankings manually. Eventually, that evolved into using small, free tools. But those were extremely slow, manual, and glitchy. Given the number of Azusa's programs, it was impossible to get an overarching view of how we were doing.

Additionally, these small tools didn't provide a direction or next steps. There were no alerts, suggestions, or clear goals.

Challenge: Working on a large site with diverse programs made checking SEO with small tools ineffective, short-sighted, and slow.

The moment we brought Conductor Searchlight on-board, I felt relieved. It took over my job's least rewarding task – trying to figure out how we were doing in the rankings – and provided clear next steps. I could spend my time actually implementing changes and doing tasks that would make a difference on the site.

Given the many schools Azusa Pacific has within the larger university, I need to be strategic about which sites I give my attention. When I look at my work in Searchlight, I can see where I've been focusing and what site needs my attention next. I'm able to balance that work and look at the larger context.
Mini Case Study: An Inside Look at Azusa Pacific in Searchlight
I often start a project by going into Searchlight's Visibility Explorer and looking at both opportunities and issues. As I identify ones I want to address, I create a task and give myself a deadline. Those annotations will ultimately help me look back and see how my timeline of changes matches up to successes in the larger site.

For example, one of our target keywords is "MFT" – an abbreviation for "Marriage and Family Therapy," which receives around 9,900 searches per month. When we began with Conductor in 2013, APU's program was ranking 98th for the term. Conductor identified some changes we could make for an immediate win – several weeks later after implementing them, we saw the page skyrocket to the second page of results.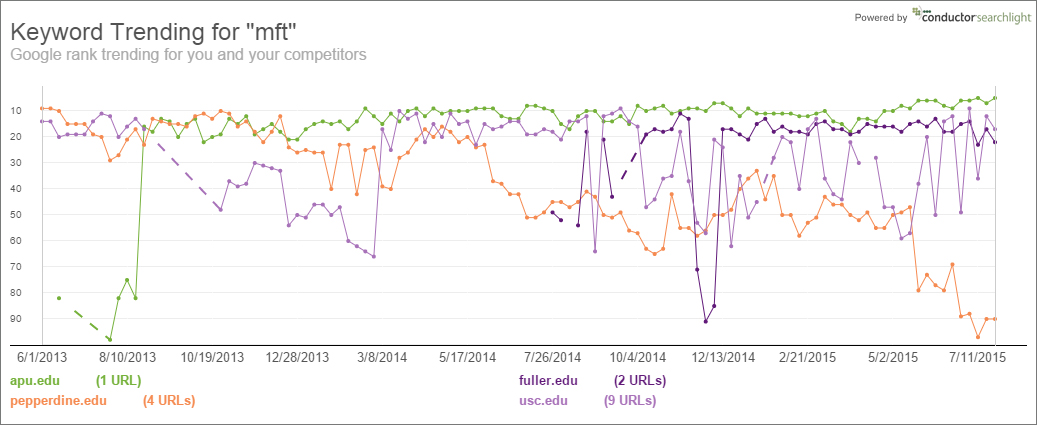 Over the ensuing months we've continued to tweak the content based on Searchlight's recommendations and seen small, incremental improvements. Now our program is consistently ranking in the top ten, and has recently broken top 5. We're also seeing drastically increased traffic to the page.
Searchlight helped me identify and test page-level optimizations, then helped me show the value of the work I did to improve our visibility.
Working in SEO can be very intangible, but Searchlight has helped change that for me. I use it to manage my workflows, set and meet goals, and measure success, which gives me a greater sense of accomplishment.
Strategy: I use Searchlight's task annotations to measure the impact of my work, set goals, and stay more connected to the rest of the Azusa team.
This is especially helpful since I work remotely – Searchlight enables me to show how I'm using my time and the results of my work. It gives our entire team a better sense of connectedness and accountability.