Customer Story: Stanley Security
How Stanley Security Increased Traffic by 285% with Conductor
The Challenge
Caroline Graham and Joe Parker, Digital Marketing Specialist and Digital Marketing Manager at Stanley Security, respectively, inherited an aging website for a rapidly growing business in a hyper-competitive industry.
"One challenge of having a website that's been around longer than you've been at the company is that there's a lot that we don't know. Conductor has been really helpful in identifying opportunities on webpages that haven't been updated in years."

Caroline Graham
Digital Marketing Specialist, Stanley Security
One of the major challenges confronting SEO teams like the team at Stanley Security is bandwidth: it's easy to get overwhelmed by the sheer volume of data when prioritizing digital marketing actions.
"It's so easy to get lost in all of the data, and Conductor has been so helpful in figuring out exactly where opportunities are. Instead of taking four hours of your day, trying to go into WordPress and figure everything out on your own, I have one insanely helpful platform where I can go in, I can check DeepCrawl, I can look at really important, high-priority issues that need to be resolved. I can identify which pages represent real opportunities. Conductor saves me so much time and helps us keep the site consistent."

Caroline Graham
Digital Marketing Specialist, Stanley Security
The Stanley team worked with their Conductor services team to identify opportunities in the technical SEO elements of their website, their content, and their marketing strategy as a whole.
"Our business is constantly changing and evolving, and there can be new strategies every month. It's really important to have a partner that helps you prioritize projects, and still be able to create reports, dashboards, and workspaces that I can review on my own."

Joe Parker
Digital Marketing Manager, Stanley Security
Stanley's partnership with Conductor means that they essentially have extra team members on board working toward the same goals. In their weekly calls, the Stanley team tracks results against their long-term strategy and identifies new opportunities using the Conductor platform with their customer success and services team.
"In the past when I've used SEO software it's been a very solitary process because you're just staring at data. But I feel like with Conductor we have a support team, so we're never on our own. If we have any questions, I can email or call Kevin Blake, our Customer Success Manager, and get my answer in seconds."

Joe Parker
Digital Marketing Manager, Stanley Security
Marketers have limited time on their hands, and streamlining team workflows while maximizing results helps teams spend less time running through endless amounts of data and more time executing on opportunities with the potential for high ROI.
The Solution
Content Opportunity: Commercial Security vs. Business Security Topics
Conductor helped the Stanley team identify that their content around commercial security was performing well. But the Conductor services team also identified a new opportunity: business security topics, which represented twice the MSV as commercial security topics.
"At an executive meeting, the Conductor team was identifying opportunities for growth through the different Stanley Black & Decker business units and recommended that, in addition to ranking well for commercial security, we should capitalize on the business security segment. On the one hand, it was really competitive. But we were able to make changes to our website using Conductor, by looking at keyword visibility, our webpage and at our competitor's webpages, and starting with easy stuff, like the meta-description and h1 tags, all the way into copy changes and messaging changes."

Caroline Graham
Digital Marketing Specialist, Stanley Security
Stanley Security's Ranked Searches for Business Security and Commercial Security Content 


Competitor Insights: SME Expansion
As in many industries, Stanley Security faced some truly enormous competition. By focusing on their customers' needs, behavior, and intent, they have been able to capture market share in a new arena. Traditionally, Stanley has focused on enterprise companies, but Conductor helped them identify a new potential market: their small business webpage was ranking very well despite the fact that it was not a business focus and had not been updated in some time.
Looking at competitor insights and market share in Conductor Searchlight also helps us to identify user behavior. One of the major benefits of using Conductor is that they allow us to not only identify what our competitors are doing well and what we could be doing better, but also how consumers find our content, how consumers find our competitor's content, and how many people are actually engaging with that content."

Caroline Graham
Digital Marketing Specialist, Stanley Security
Stanley Security Rank Increases for SME Content

Using Conductor's integration with DeepCrawl, competitor insights, content segments, and keyword visibility, the Stanley team was able to pinpoint why the page was so successful. But working with their Conductor services team has helped them to expand on that success by identifying what their customers really cared about on the page and beyond.
"Those results have a started a larger conversation: we're beginning to expand into the small business market. We're developing more content and even advertising around the larger business opportunity we identified using Conductor. It's starting to gain a lot of momentum in terms of content creation specifically related to small businesses and small to medium enterprises."

Joe Parker
Digital Marketing Manager, Stanley Security
Testing the Go-to-Market Strategy: Stanley IntelAssure
One of the ways the Stanley team leverages Conductor is to evaluate go-to-market campaigns by identifying how people were discovering their pages. In March 2018, they launched a video solution called Stanley IntelAssure, which automatically detects and diagnoses issues with video surveillance systems and recommends a solution. The company that invented the solution called it a "service assurance solution."
"We went to market using the term 'service assurance' without realizing that nobody was searching for service assurance, because nobody knew what it was. We used Conductor to figure out what the end user was actually searching for: keywords around missing video and missing video evidence. We modified our external go-to-market strategy using Conductor's SEO insights. We were able to identify what people were actually searching for and legitimately changed how we went to market with the solution. That informed our email content, our landing page content, everything."

Caroline Graham
Digital Marketing Specialist, Stanley Security
Optimizing for User Experience: Calls to Action
As the Stanley team optimized their content to reflect customer needs, they also examined their website and evaluated their calls to action by considering what people were really looking for when visiting their site.
"Right now, someone lands on our website and are immediately asked to 'Request a consultation. Contact Stanley now.' Conductor is helping us change, by understanding that people were coming to the site to get information and helping us deploy softer call-to-actions and limit the number of call-to-actions in general. We realized that we were giving people too much information and too many choices, and then people were deciding to not make a choice at all."

Joe Parker
Digital Marketing Manager, Stanley Security
Leveraging Services: Local Pages
The Stanley team had wanted to launch a local landing page initiative for offices around the United States, but a project of that size and scope was tough to prioritize against more immediate needs. That's where Conductor's customer success team could help.
Stanley Security's Traffic Increases from Local Landing Page Optimization

"It takes a lot of manual time to determine where the opportunities are. I had a local landing page project that was a pipe dream I'd been floating around the team for three years. I was sure that it would be a great opportunity, but it was hard to find the time to devote to the project. Kevin Blake, our Conductor customer success manager, helped me sort through the data, and we ended up launching 60 local landing pages for 60 offices across the United States. We made it happen, and it's been really successful. But I don't think those opportunities would have been identified had it not been for the data that we're able to garner in Conductor."

Caroline Graham
Digital Marketing Specialist, Stanley Security
SEO Across Teams: Product Launch Strategy
Stanley Security is always launching new products and solutions, and SEO plays an important part in that product launch strategy. From creating a content segment to identifying which competitors offer similar solutions, the Stanley team uses SEO insights to give their products an edge from day one.
"We work closely with the product team because we're the ones marketing the solution and SEO is a huge component of that. If you're not using SEO you're doing a disservice to yourself. Conductor provides data around content segments, market share, trends, and competitors. The data is laid out in a way that's easy to understand and share. We send some dashboards to our product team every Monday to share how our keywords are performing and how we are ranking against competitors. Most importantly, it's data that they can actually understand and digest."

Caroline Graham
Digital Marketing Specialist, Stanley Security
The Results
Since starting to work with Conductor in November 2017, Stanley Security has increased traffic by 285%.
Traffic Increases for Stanley Security + Conductor


The Stanley team is able to stay agile in the market by tracking SEO data and making adjustments to their strategy in real time.
"I'm often surprised when I'm looking at data in Conductor. We might have to shift our strategy or some of our focus keywords if something isn't resonating with people. But now we have those insights from the beginning; as we roll out big initiatives, we have all of that data in one place, living and breathing, which gives us a competitive advantage. On our bi-weekly calls with Kevin Blake, our Conductor Customer Success Manager, I come out with a better understanding of how I can help our product team go to market and successfully launch these solutions, and give them access to the vast amount of data we can get out of Conductor."

Caroline Graham
Digital Marketing Specialist, Stanley Security
But traffic is only the beginning of the story. The Stanley team also prioritizes illustrating the link between their SEO efforts and larger business goals.
"More than anything, company leadership wants to see how our pages led to leads. The team needs to make decisions informed by data. Page views and trends are important, but if we're able to show our VP of Sales and even our Head of Marketing how people are converting on our site, and how our SEO efforts have influenced those conversions, that's a really important metric."

Joe Parker
Digital Marketing Manager, Stanley Security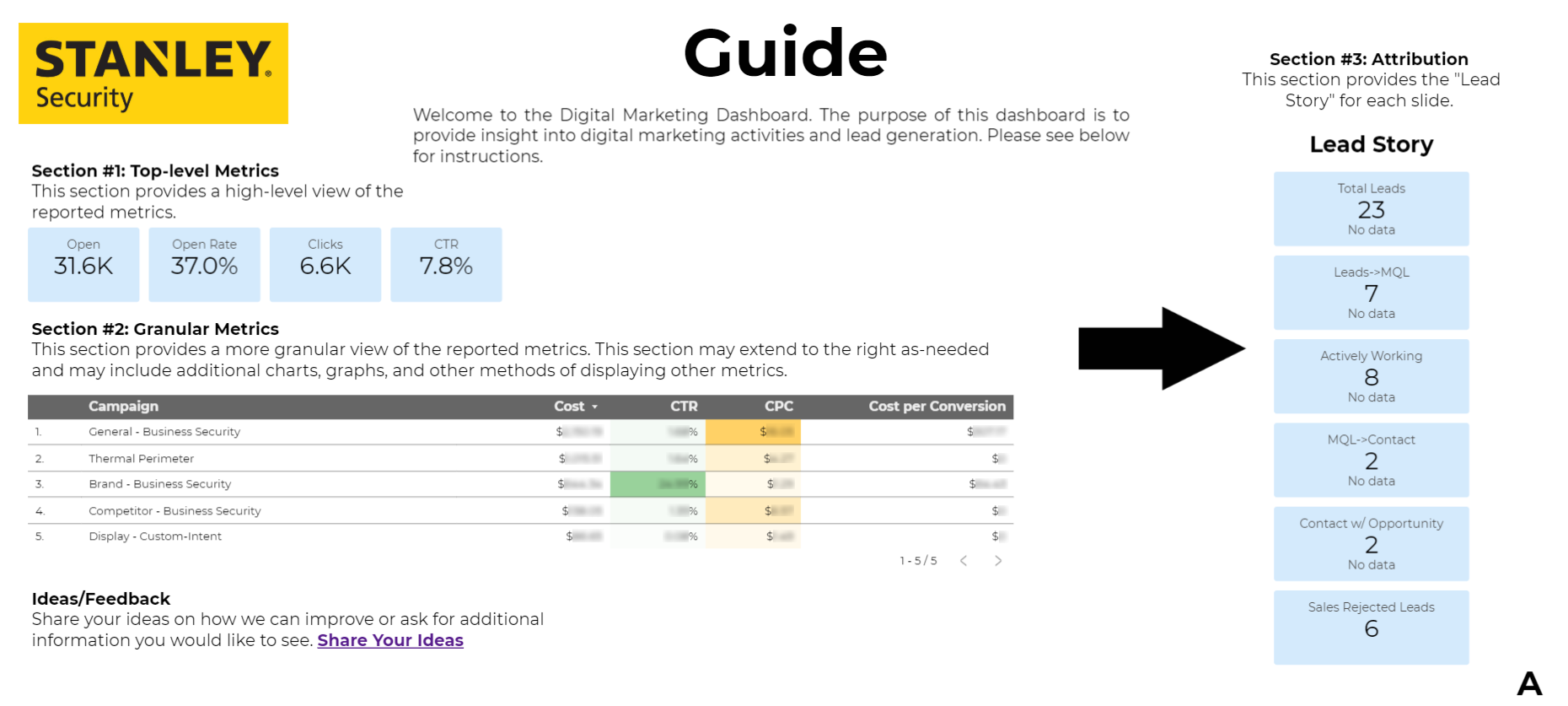 Learn how Conductor can help your business by empowering your marketing team with best-in-class customer insights and search data by talking to one of our SEO experts.
---
About
Stanley Convergent Security Solutions, Inc. is a part of Stanley Black & Decker. Stanley Security designs, installs, monitors and services security systems for industrial, government, commercial, residential and national account customers.
---